FOUNDATION SCHOOL
Üniversitemiz ilgili üniversiteler ve yurtdışındaki diğer yüksek öğretim kuruluşları ile akademik anlaşmalar gerçekleştirmeye ve bu anlaşmalar neticesinde öğrenci ve akademisyen değişim programına yönelik bir politika izlemektedir.
GAÜ'DEN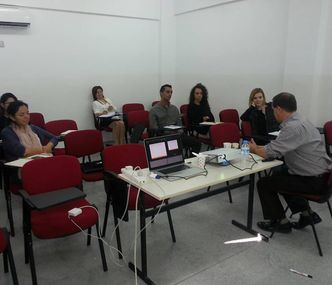 TESTING TRAINING by Grant Kampton
Testing and assessment has high stakes for the development and reputation of any institution. Keeping this in mind, the director of FES, Ms Hatice Asvaroglu , arranged a workshop with Mr Grant Kampton for the constructive development of Testing Team. Beneficial guidelines were provided by the instructor to maintain the validity and reliability of assessment. The final verdict of the workshop was that the testing and curriculum teams go hand in hand for the greater progress of FES.
The participants of the training were: Emrah Volkan, Anna Altintas, Fatma Hurda, Kemal Altinkaya, Shema Bukhari and Yosra Jarrar.