FACULTY OF ARCHITECTURE, DESIGN AND FINE ARTS
GAÜ'DEN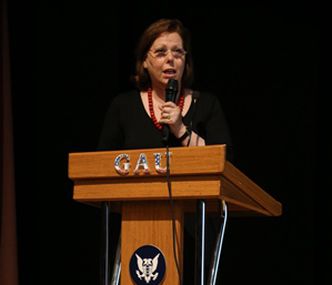 GAU International Panel – Urban Design and its Morphology
Girne American University (GAU) Architecture, Design and Fine Arts Faculty organized an international panel about Urban Design and its Morphology under the title of "Rome in Kyrenia".
The panel was attended by the faculty members of Rome Sapienza University and Girne American University as Speakers. The panel included Prof. Dr. Giuseppe Strappa who is the Director of Doctoral School of Rome Sapienza University, one of the largest universities of Europe, Dr. Alessandro Camiz and Dr. Annamaria Pandolfi, who participated as speakers, while the Head of the GAU Architecture and Interior Design Department Assist. Prof. Dr. Shahin Keynoush, and Assist. Prof. Dr. Senem Zeybekoğlu Sadri participated in the discussion.
Vice Dean of GAU Architecture, Design and Fine Arts Faculty - Assist. Prof. Dr. Hossein Sadri gave the opening speech, Prof. Giuseppe Strappa talked about his "Architectural Design as a Process" which emphasized the architectural design processes with different examples from Venice, Florence and Rome and showed some sample projects prepared by students in Rome Sapienza University architectural design studios.
Dr. Alessandro Cain gave a speech entitled "Processual Design: From Urban Tissues to Palaces and Squares" which referred to the process of shaping city plazas in the Middle Ages and Renaissance period and their relation to urban life.
Anna Maria Pandolfi gave a talk and briefed the participants about the restoration process of Bernini's Four River Fountain statues and monuments located in Piazza Navona, Rome.