FACULTY OF ARCHITECTURE, DESIGN AND FINE ARTS
GAÜ'DEN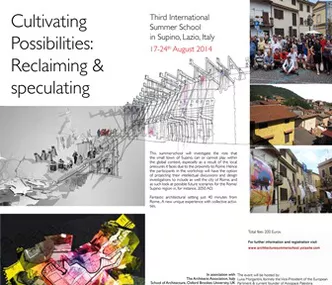 GAU - 3rd Architecture Summer School in Italy
GAU is to organize the 3rd Architecture Summer School in cooperation with the Chamber of Architects of Italy and England Oxford Brookes University
Girne American University (GAU) Architecture, Design and Fine Arts Faculty is organizing the third international architecture summer school in cooperation with the Chamber of Architects of Italy and England Oxford Brookes University.
The summer school which will be co-joined by London NG Architecture, Morola Municipality, Supino Agritourizm, Lazio Archaeological Society, Alcide Servi Institute, Nova Arcadia, International Urban Planning Association, the Archaeological Landscape Design, Çankaya University and Frosinone Academy of Arts, is to be held between 17th and 24th August 2014 in the city of Supino, Italy.
It has been announced that the main title of the third international architecture summer school is "Cultivating Possibilities: Reclaiming and Speculating" and it aims to increase awareness about the architectural approaches to the solutions of more environmental and social orientated problems such as "urban agriculture" under this title.
The workshop, which will be held for 7 days during the summer school, will include field study research, mapping techniques, design courses and presentation methods in cooperation with the local public of Supino and Morolo and as a result an exhibition is to be organized with the support of Supino and Morolo Municipalities which will be published via an electronic format.
For further details and application enquiries please visit
http://architecturesummerschool.yolasite.com/