FACULTY OF ARCHITECTURE, DESIGN AND FINE ARTS
GAÜ'DEN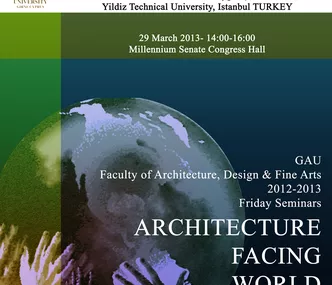 Discussions at GAU About Relations of Context Culture and Form in Architecture
ARCHITECTURE: SEMINAR ABOUT CONTEXT, CULTURE AND FORM WILL BE PARTICIPATED BY THE SOUTHERN EUROPE DIRECTOR OF AIA EUROPE-AMERICAN ARCHITECTURES INSTITUTE PROF. DR. MURAT SOYGENİŞ TO HOLD A SPEECH.
The Friday seminars which have been continuing as "Architecture Facing World Problems" for 3 years by GAU Architecture Design and Fine Arts Faculty is to proceed with a seminar on "Architecture: Context, Culture and Form".
Dean of Yıldız Technical University Faculty of Architecture Prof. Dr. Murat Soygeniş is to hold a speech for the seminar in GAU Cyprus-Girne Campus Millennium Complex Senate Congress Center on 29th of March 2013 Friday at 14:00pm.
Friday seminar under "Architecture Facing World Problems" for the Academic years of 2012-2013 will hold the 7th with the "Architecture: Context, Culture and Form" seminar which will be open to public and broadcasted live via GAU TV.
Who is Prof. Dr. Murat Soygeniş?
Murat Soygeniş (Architect, Prof. Dr.) borne in Ankara in 1961. Won a TÜBİTAK Award. He graduated his under-graduation in the Faculty of Architecture of Istanbul Technical University in 1982 and post-graduate in School of Architecture- University of Buffalo. During the years of 1985-1990 he resided in USA and undertook work, researches and occupational visits. Following his doctorate he acted as faculty member since 1995 and as Dean since 2010 in Technical University. Some of his projects and buildings, which were under making since 1982, have been granted architecture and design awards. These works have been exhibited both nationally and internationally and been published in various sources. His books on architecture are been published by both national and international publishing houses and some sections are been used as references. Amongst some of Soygeniş's occupational membership there are TMMOB-MO and AIA. Soygeniş is as well preceding his duty as the Southern Europe Director of AIA Europe-America Architects İnstitute since 2011.