FACULTY OF ARCHITECTURE, DESIGN AND FINE ARTS
GAÜ'DEN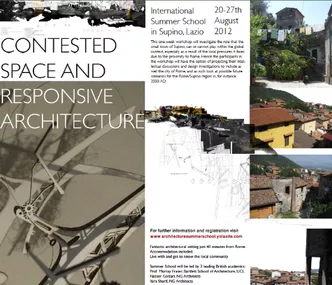 GAU Will Take Part in Architecture Summer School in Italy
GAU Department of Architecture of the Faculty of Fine Arts and Design has been chosen as founding and executive member for European Architecture summer school which will be organized in Italy with the theme Contested Space, Responsive Architecture.
European Architecture Summer School will be hosted by European Parliament Vice President Luisa Morgantini and Italy's Supino City Mayor Alessandro Foglietta. GAU, Westminster University from England and University College London are going to join the event with founding and executive membership status.
European Architecture Summer School is going to be organized on 20-27th August 2012 in Italy. In their statement, GAU Head of Architecture Department Asst. Prof. Hossein Sadri and Head of Interior Design Asst. Prof. Senem Zeybekoğlu Sadri, said 8 students from GAU Architecture faculty will be able to attend summer school. And the summer school is being organized every year for students from the world's leading architecture faculties to share their education experiences, to take advantage of other approaches and to demonstrate their success in an international atmosphere.
"Girne's Historical Architecture and Cultural Inheritance will be introduced"
At the summer school which will be organized near Roma, in Supino city, the aim is to discover potentials of small historical places in both architectural and municipal means. And according to lecturers from GAU, summer school is going to have important results and will make important contributions to student development. There will also be workshops and seminars with titles about Girne's historical architecture and cultural inheritance which will help to get nation and Girne recognized by other countries.
"Aim is to organize summer school in Girne"
Alongside with Architecture faculties of world's leading universities and GAU's founding and executive status for summer school will also make an important reference to nation's university system and education quality according to GAU's lecturers. They also emphasized that they are aiming for both student development and organizing Europe Architecture Summer School in Girne next year.
According to GAU's lecturers, attending summer school will also create an environment for various academic co-operation agreements and international activities with agreements will carry student development to the highest level.