FOUNDATION SCHOOL
Üniversitemiz ilgili üniversiteler ve yurtdışındaki diğer yüksek öğretim kuruluşları ile akademik anlaşmalar gerçekleştirmeye ve bu anlaşmalar neticesinde öğrenci ve akademisyen değişim programına yönelik bir politika izlemektedir.
GAÜ'DEN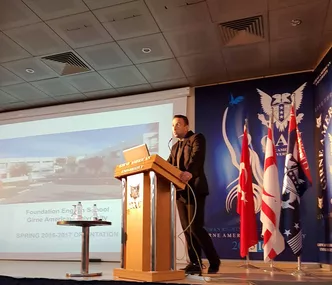 Foundation English School, 2016-2017, Spring Semester Orientation
GAU FOUNDATION ENGLISH SCHOOL ORIENTATION SESSION
An orientation session was conducted for Foundation English School students at Senate Hall in the Millennium Building on 14.02.2017. The aim of the orientation session was to inform FES students about school in general and their expected duties. The session lasted half an hour in which the existing FES students and the new students were informed about the rules and regulations, location of the building, the details of the portfolio, and examinations. Furthermore, the online websites that are going to be utilised such as Edmodo, E-learning and Foundation School's website were introduced to the students. The importance of using these online resources was emphasized and the audience listened attentively. At the end of the event, all the questions that were posed by the students were answered in detail by the presenters.