FACULTY OF ARCHITECTURE, DESIGN AND FINE ARTS
GAÜ'DEN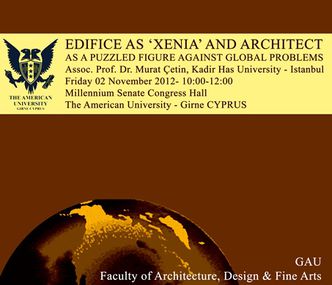 2012-2013 Friday Seminar Series Titled As Architecture Facing World Problems Will Commence At GAU
Seminar of "Architecture Facing World Problems" will be the opening for the series of seminars which will be held on 02 November 2012 by Girne American University Architectural Design and Fine Arts Faculty in the 2012-2013 academic years.
Beside the Girne American University authorities, the president of Turkish Cyprus Chamber of Architects Azmi Öge will also attend the opening seminar while Teaching Assistant Assoc. Prof. Dr. Murat Çetin of Kadir Has University will attend the opening seminar as lecturer for the topic of' "Edifice as 'Xenia' and Architect".
The opening seminar which will be held in Girne American University Campus Millennium Complex Senate Congress Center Spectrum Hall will be open to public and will commence at 10:00am and GAU TV will broadcast live.
Girne American University Architectural Design and Fine Arts Faculty stated that in order to convey the development of the students to the highest level and to support the movements and global discussions related to architecture around the world, series of seminars under the title of Friday Architecture will be held every academic year in GAU and also explained that leading scientists from national and international universities, non-governmental organization, occupational institutions and establishments and architects will act as lecturers for these seminars.