FACULTY OF ARCHITECTURE, DESIGN AND FINE ARTS
GAÜ'DEN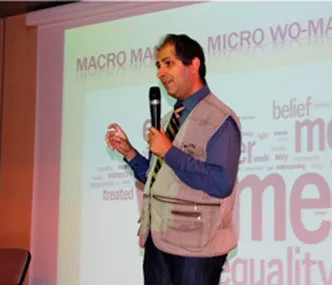 "Micro World- Macro World" Has Been Discussed in GAU
2012-2013 Academic year seminar series organized by Girne America University Faculty of Architecture Design and Fine Arts are continuing under the title of "Architecture Facing World Problems".
The second seminar undertaken after the opening, GAU Teaching staff Assist. Prof. Dr. Shahin Keynoush attended the seminar as the lecturer to discuss the topic of "Micro World Macro World"
Dr Keynoush completing his speech for the "Micro World Macro World" he also emphasized the problems of scales which Architecture greatly faces and the mutual reactions of Micro Worlds and Macro Worlds in the framework of Fuzzy and Chaos theories.
The seminar which great interest was participated by the GAU students discussed that when Micro-Organisms are examined through micro world and micro scale, their roles in the world and considered in a scale of the universe, we realize that by the dimensions of our sphere and human, human is a creature living in between the micro and macro worlds and not situated in the center of the world as presumed and also examined scale problems regarding human and specially architecture based approaches via today's logical and scientific developments.
The third of Friday Seminar series will be held on 30 November Friday at 10:00 am by Dr.Francesco Mazzucchelli's lecture from Holland.
The seminar program which will be held as open to public at Girne American University Cyprus Girne Campus Millennium Senate Congress Centre is as such;
7 December 2012 Friday
TurkeyChamber of Architects Vice-President and METU Head of Architecture Department Prof. Dr. Güven Arif Sargın
21 December 2012 Friday
İstanbul Bilgi University- Head of Architecture Department Assoc.Prof. Dr. Şebnem Yalınay Çinici
Vice Dean of Girne American University Faculty of Architecture Design and Fine Arts Assist. Prof. Dr. Hossein Sadri have stated that for leading global architecture discussions and ascending student development to the highest level the seminars will be held under the title of Architecture Friday throughout the academic year for every week at GAU and added on by emphasizing that beside of the scientists of national and international universities, other non-governmental organizations, occupational institutions and establishments and architects will also attend as lecturers.