Mimarlık bilim ve sanatın buluştuğu bir bakış noktasıdır. Bilimlerarası bir doğası olan bu alanda yer alan mimar bilgi değişimi deneyimini mütemadiyen yaşar. Hem teorik hem de stüdyo derslerimize olan yaklaşımımız, mimarlığın sadece bir çalışma alanı ya da bir meslek olmasının ötesideki bakış açımızı yansıtmaktadır. Bölümümüz sağladığı öğrenme süreci ile herbir öğrencinin kişisel ve bireyler özelliklerini genişletip, mimari bir şekilde düşünebilme ve kendisini ifade edebilme becerisine sahip olması için çalışmaktadır. Bu sepeble, öğrencilerimizin bölümümüze ve fakültemize getirdiği çeşitlilik ve renkli dünya görüşleri ile gurur duymaktayız.
Doç. Dr. Shahin Keynoush
GAU Mimarlık Bölümü Başkanı
The graduates will have knowledge and ability to:
1. To define, evaluate and conclude design projects in a creative process and with a propper decisions
2. To identify and criticize challenges of human being and their socio-spatial representations
3. To employ and develope technical and professional knowledge and skills
4. To conduct and justify interdisciplinary interactions in macro & micro scales
Program Learning Outcomes:
LO1: Create comprehensive architectural designs within different scales.
LO2: Generate effective communication through different media.
LO3: Interpret the knowledge of histories and theories of architecture.
LO4: Relate to different methods and researches in the field of architecture.
LO5: Design building technologies and structures in architecture.
LO6: Compile projects according to professional codes and principles.
LO7: Combine environmental aspects and sustainability within the design process.
LO8: Organize the space within the planning process.
Mimarlar kamusal binalardan, ticari ve konut alanları gibi çeşitli yapı ve binaların inşaatı, planlaması ve tasarımında çalışabilirler. Mimarlar binaları kullanacak kişilerin ihtiyaçları doğrultusunda ve çevreyle uyum içerisinde ve en rahat, sağlıklı, güvenli ve ekonomik yollarla mekan tasarımı yapmaktan sorumludurlar. Mimarlar ayrıca bakanlıklar, belediyeler vgibikamu kurum ve kuruluşlarının mimarlık bölümlerinde çalışabilirler. Bunun dışında, özel sektördeki mimarlık ve inşaat şirketlerinde iş olanakları olduğu gibikendi bürolarını da açabilirler.
Mimarlık bölümü mezunları ayrıca master ve doktora eğitimlerine devam ederek akademik kurumlarda çalışabilirler.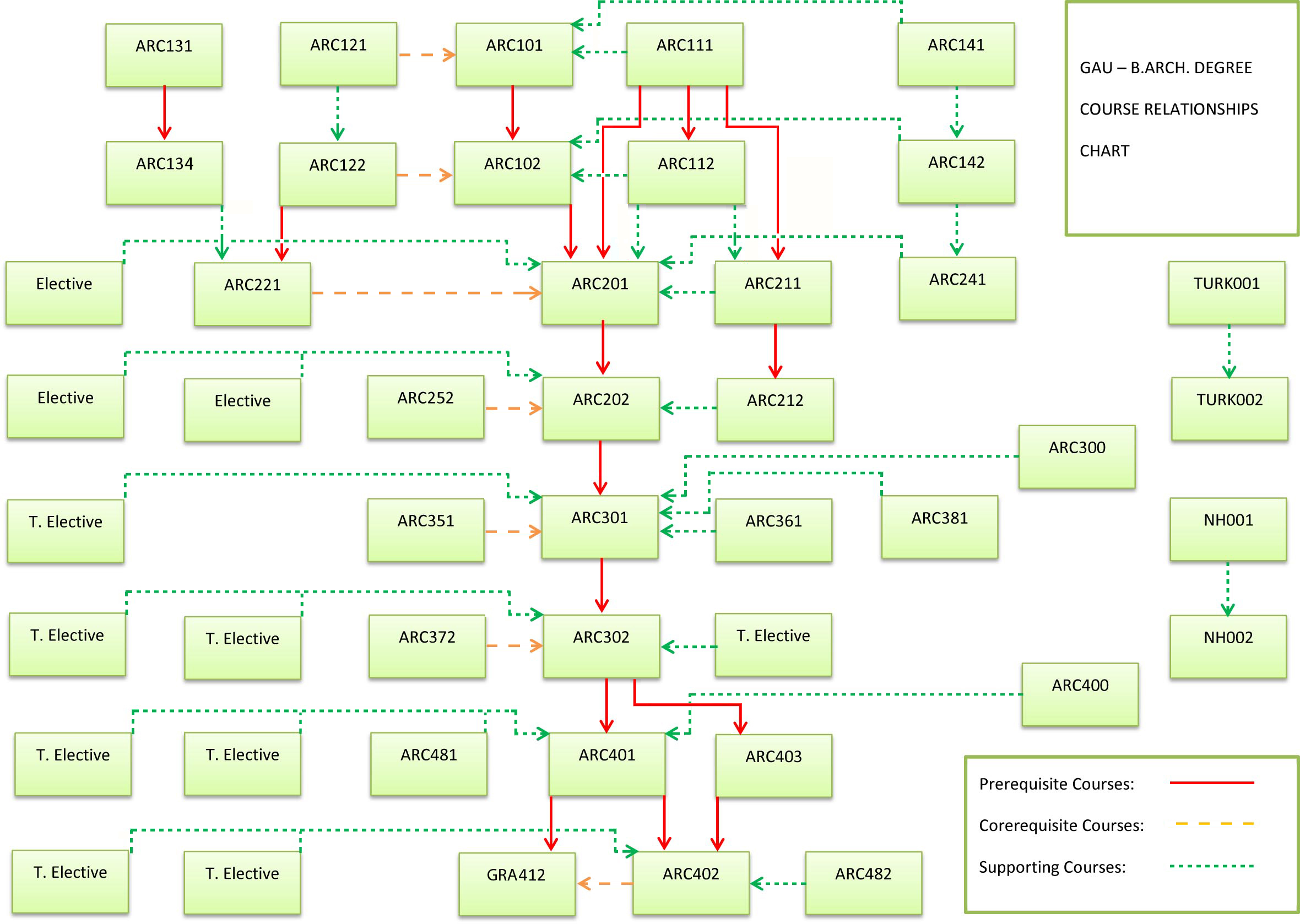 1. Dr. Cemal Cenk Hamamcıoğlu (GAÜ, 2000), Yıldız Teknik Ünversitesi, Şehir ve Bölge Planlama Bölümü Öğretim Görevlisi. http://www.sbp.yildiz.edu.tr/kisiler/2/0/29/Cenk-Hamamc% C4% B1o% C4% 9Flu
2. Özcan Can GAÜ, 2000), İstanbul Büyükşehir Belediyesi Meclisi Üyesi, http://www.ibb.gov.tr/tr-TR/kurumsal/BelediyeMeclisi/Pages/MeclisUyesiDetay.aspx?uyeID=27
3. Redif Nurel, (GAÜ, 2002), Nurel Şirketler Grubu Sahibi, http://www.nurelconstruction.com/kibris-insaat-hizmetlerimiz.html
4. Majid Behboudi, (GAÜ, 2010), Toronto Üniversitesi Master Öğrencisi, Yarının Evleri Yarışması Ödülünü Kazanmış, http://www.archdaily.com/222795/d3-housing-tomorrow-2012-winners/
ARC101-Basic Design Studio (3,6)6
This studio provides both a conceptual and practical introduction to design and introduces students to basic design principles, design theory and concept development. Through assignments students develop an understanding and appreciation of the design elements such as point, line, shape, form, space, texture, value and color, and design principles such as balance, proportion, emphasis, movement, pattern, repetition, rhythm, variety, harmony and unity.
ARC102-Introduction to Architectural Design Studio (3,6)6
This design studio, introduces students to architectural design principles and design process, problem defining and solving, spatial organization and basic spatial design practices, anthropometrics and awareness of universal design principles, and architectural communication and presentation techniques. In this studio a series of projects of increasing complexity will be given to students. (Prerequisite: ARC101).
ARC111-Architectural Drawing I (2,2)3
This course deals with techniques of graphic presentation introduced as a basic language of architecture. Students work with a broad range of graphic presentation methods. Skills developed in architectural and spatial drawing. Theories of representation and the use of several visual means including free hand drawing will be covered to analyze and convey ideas regarding the environment. Fundamentals of orthographic drawing, rendering techniques and format layout examined through an array of projects.
ARC112-Architectural Drawing II (2,2)3
This course deals with advanced knowledge and skill acquisition of the diverse categories of information delivery required by the design professionals. Architectural abstraction in drawing to communicate ideas on spatial and environmental information through perspective, isometric, oblique and axonometric drawings will be explored. Various media will be covered as means of graphic presentation.(Prerequisite: ARC111).
ARC121-Building Technology I: Materials and Methods (3,0)3
This course introduces students to the role of building technology in the design process. Building materials and methods of construction are studied. Students become aware of all of the materials, the construction types, the elements and the methods of the construction.
ARC122-Building Technology II: Structural Elements (3,0)3
This course continues beyond its prerequisite, Building Technology I: Materials and Methods. Building structural elements are studied. Students become aware of the concepts and procedures for the design, manufacture, and construction of structural components.
ARC131-Methematics for Architects (3,0)3
This course provides students with necessary knowledge to understand the basic mathematical concepts and principles. By such knowledge, students understanding and problem solving skills are developed to help them cope with structural design problems during their education as well as during their professional carrier.
ARC132-Statics and Strength of Materials (3,0)3
A course for non-engineering majors that includes concepts needed to understand the basic statics and strength of materials theories and concepts. First half of the lectures concentrate on the concepts of equilibrium of particles and bodies, center of gravity, centroid and force analysis for various structures. Second half is designed to concentrate on the basic treatment of stress and deformation in elastic bodies. (Prerequisite: ARC131).
ARC141-History of Art and Culture (3,0)3
This course provides students a broad understanding of the ancient, medieval, and post-renaissance world through an analysis of art and culture. This course places an emphasis on the great complexity and interconnectivity of socio-political and cultural facts and employs an anthropological view to the history of art.
ARC142-History of Modern Architecture (3,0)3
In this course as the conclusive course for the series of history of Architecture, it is requested to have a comprehensive vision and knowledge of the philosophies, theories, and the clustering of the various effective masters and thinkers in relation to the built environment down to the product design in the 19th and 20thcentury with a clear understanding of the origins and roots in the previous historical events. So the combination of chronological and analytical approaches is suggested. (Prerequisite: ARC141).
ARC201-Architectural Design Studio I (3,6)6
This design studio is based on programming and planning for human habitation in dwellings and neighborhoods. At a micro scale, this course deals with housing as a response to human needs with the planning of rooms, houses, and groups of houses; analysis of climatology, physical, psychological, and social needs and their influence on the housing design; interior spaces and functions, and building design, layout, and formal development. (Prerequisite: ARC102 and ARC112).
ARC202-Architectural Design Studio II (3,6)6
This design studio course explores architecture as a cultural practice that structures both the physical and the social environment with a series of macro spaces design based project. The organization of medium collective space will involve the deployment of building relationship within an urban built environment. The course includes the analysis and understanding of a selected context in order to propose a multi-level building in terms of architectural composition expression. (Prerequisite: ARC201).
ARC211-Digital Design & Presentation I (2,2)3
This course provides students with practical hands-on experience in using professional architectural drafting software (e.g., Autocad). The course looks at two-dimensional CAD techniques used by architects to design and create presentations. The course covers the process of creating, manipulating, and communicating through digital drawings. Emphasis will be placed on understanding architectural drawing convention, and generating sophisticated architectural graphics, mappings and analyses using a variety of digital media. Programs taught may include AutoCAD, Illustrator, InDesign, Flash, and Photoshop. (Prerequisite: ARC112).
ARC212-Digital Design & Presentation II (2,2)3
This course provides students with practical hands-on experience in using professional architectural modeling software. The course looks at the principal three-dimensional modeling techniques used by architects to design and represent projects. The course covers the process of creating, manipulating, and communicating through digital architectural models. Emphasis will be placed on the generation of 3D architectural models and their presentation using AutoCad, 3DStudioMax, Maya, Rhino, Grasshopper and/or VRay. (Prerequisite: ARC211).
ARC221-Building Technology III: Structural Systems (2,2)3
This course provides an introduction to the behavior of structural components and systems, for concrete, steel and timber structures. The theory and concepts of various structures and structural elements are presented with a visual format and models to emphasize an intuitive comprehension of the fundamental principles of structural behavior. (Prerequisite: ARC122 and ARC132).
ARC241 - Contemporary Architecture (3,0)3
In this course as the ending course for the series of history of Architecture, it is planned to make the students` mind skillful enough to be able to understand the current events in our world today in relation to the roots in previous courses in history of architecture. So the main methodology and approach for this course is Analytic instead of Chronological. (Prerequisite: ARC142).
ARC252-Environmental Control Systems (3,0)3
This course aims at introducing students with understanding and knowledge of impacts of built environments on people and natural environment. The course focuses on the role of spatial designer in designing buildings, building environments and interior spaces that benefit from natural resources, provide maximum comfort levels, limit environmental damage and energy consumption. The topics covered in the course are climate and climate change; bio-climatic design; comfort levels of buildings; use of natural resources and passive and active systems in heating, cooling and lighting, and water and waste management in buildings.
ARC300-Internship I (N/C)
Off campus study gives an opportunity to students to demonstrate the interrelationship between theoretical principles of architecture as a profession and their application in practice. The goal of the first internship is to provide effective professional preparation for students through field experience. The cooperative relationship between the business and academic learning should be enhanced. The student intern is responsible to keep a journal/diary of their daily experience. The internship is usually scheduled in summer for duration of twenty four (24) working days. The purpose of this assignment is to initiate the student into an awareness of professional firms and to provide an overview of on-site learning.
ARC301-Architectural Design Studio III (3,6)6
This design studio course starts to focus and examine the impact of environmental issues with the aim to design an environmentally responsive building within the design process. The studio will develop an understanding of the relationships between space, function, built form and context throughout a sustainable approach. More attention is given to how the building fabric can be assembled and orientated to control energy use and building performance using sustainable construction processes. (Prerequisite: ARC202).
ARC302-Architectural Design Studio IV (3,6)6
This design studio course progresses from developing research and demonstrating the ability to design more complex buildings and related constituents. Major studio project concerned with public buildings with medium scale spaces requiring advanced architectural, structural and constructional skills coupled with exploration of existing site conditions and new visual impact in the setting. (Prerequisite: ARC301).
ARC351-Urban Design & Planning (2,0)2
This course is designed to help students develop the values, knowledge and skills which they need to become effective practitioners in the production of a better urban realm. A series of lectures which explore current urban design and planning theories and methods introducing the students to the analysis of urban problems in different context that will enable them to produce alternative design solutions in cities. This course will amplify the requisite understanding of urban areas practices with the development of analytical urban form theories through design lectures, behavior analysis and perception based exercises.
ARC361-Human Factors in Design (3,0)3
This course aims at introducing students with knowledge and skills of designing barrier free environments that respond to various human needs, especially people with challenges. The course focuses on human anthropometrics, ergonomics of space, universal design and accesibility issues. The course further develops on generating design concepts that dismantle physical and cognitive barriers to mobility, orientation, hypersensitivity and multiple challenges in buildings and open spaces.
ARC 372–Principles of Restoration & Conservation (2,2)3
The goal of the course is to give students an understanding of the importance of Restoration and Conservation in the field of historic environment sensitivity and consciousness. Students should become familiar with of the Historic heritage and related bodies, and the architectural tools required to work with a historically valuable building. In addition, this course provides a practical guide to measured surveys of historic buildings with special emphasis on recording the fabric of historic areas and producing accurate scaled drawings of selected buildings.
ARC381-Professional Ethics (2,0)2
Introducing values/value judgments, evaluation and valuation systems, personal and collective responsibilities of professionals and the accountability of profession in Architecture and Interior Design, this course challenges the students to examine critically a broad range of professional, legal, and ethical problems architecture and interior design as professions face today.
ARC400-Internship II (N/C)
The summer training program is designed to expose students to a collaborative, professional office environment and a team of experienced design professionals. The goal of the second Internship is to provide effective professional preparation for students through office experience. The cooperative relationship between the business and academic learning should be enhanced. Students will be exposed to both the creative and business environment. Assignments will vary and include project research, site visits, sketching, computer production, design reviews, and assisting on marketing proposals. The student intern is responsible to keep a journal/diary of their daily experience. The internship is usually scheduled in summer for duration of twenty four (24) working days. The purpose of this assignment is to initiate the student into an awareness of professional firms and to
provide an overview of office culture.
ARC401-Architectural Design Studio V (3,6)6
This design studio course represents the most extended and developed exercises in macro planning issues. First priority is given to the urgent needs of our environment in terms of regeneration project such as housing, schools, or community buildings for urban centers. Projects will reinforce the entire curriculum, emphasizing on the complex relationships of buildings in an urban context taking all factors into consideration by way of interrelated aspects of an existing urban fabric. (Prerequisite: ARC302).
ARC402-Graduation Project (4,12)10
The final project in architecture is an independent architectural design project based on a theme chosen by the student after accomplishing Graduation Research & Preparation prerequisite course (ARC 403). The graduation project is a cumulating studio and an opportunity for each student to define an individual position with regard to a specific aspect of architectural practice. Students are expected to incorporate research, programming, and site definition within their design process and present a written essay that discusses the development of their work. (Prerequisite: ARC401 and ARC403).
ARC403 - Graduation Research and Preparation (3,0)3
This course deals with the development of an individual general study and research by the student on a specific topic of her/his own choice/interests which goes to the primitive draft and initial issues about the final project. The research encompasses the following stages: subject definition, data gathering and classification, information interpretation relevant case/sample studies, programming and planning (denoting to activities), spatial perceiving, and technical information, site/field analysis and environmental fitting which shall be presented as a research report. (Prerequisite: ARC302).
ARC412-Portfolio and Presentation (2,2)3
Students will produce an academic portfolio which represents the best examples of their creative and technical skill sets. Preparation of appropriate marketing materials, including a business card and CV, will be explored on a class and on an individual basis.(Prerequisite: ARC401).
ARC481-Project Management (2,0)2
Project Management course is designed to build and expand the foundation of knowledge needed by successful managers by examining the organization, planning, and controlling of projects and by providing practical knowledge on managing project scope, schedule and resources. Topics include project life cycle, work breakdown structure and Gantt charts, network diagrams, scheduling techniques, and resource allocation decisions.
ARC482-Professional Practice (3,0)3
This course provides students the knowledge of the social, political, economic and legal aspects of architectural practice. This course includes topics on professional laws and regulations such as contracts, bonds and insurances, professional partnerships, human relations in the profession and occupational health and safety issues.
NH001 - National History I (N/C)
Starting with the second half of the 19th century and coming to date; not a chronological presentation but rather dwelling into social political and economic reasons of events. To show how history functions as a social memory. Special emphasis is put upon national histories of both Turkey and T.R.N.C., presenting ideas and principles of Ataturk, the founder of modern Turkey.
NH002 - National History II (N/C)
A continuation of NH001
TURK001 - Turkish I (N/C)
Identification of the position of the Turkish language among World Languages; Turkish-speaking Lands of the World; An account of the historical development of Turkish; The teaching of writing, sentence structure and the grammar of the language. Special emphasis on explaining and teaching of writing styles. Classroom tasks of in-depth analysis of specimen books by Turkish writers.
TURK002 - Turkish II(N/C)
Introduction and exposition of the Turkish Sentence structures and descriptive styles for the purpose of enhancing speaking skills. By means of written and oral discourse, the realization of student-centered tasks for the development of précis, examination and critical skills of the student.
Elective Courses
ARC404-The Culture of Architecture
This course provide students a broad understanding of historical evolution of architecture both as spatial design and spatial studies and includes topics such as the language of architecture, the presentation and representation techniques and the socio-cultural and political aspects of architecture. An investigation of how architecture as a profession and a field of study developed during the history. Special emphasis is given to the post-renaissance and post-industrial revolution period.
ARC405- Research Techniques & Methods
This elective course is designed as an introduction to the research techniques and the methods that achieve them. The aim of this course focuses on processes recognising the everyday skills and techniques involved in different kind of research. It will be supplemented by a series of exercises designed to help brainstorming progress of research thinking. The course helps students to develop key issues in making research feasible at any stage and for any kind of studies. It offers advice on how to conduct research discussing different methods from analysis of findings to report of results.
ARC406-Criticism in Architecture
This course deals with the methods of criticism in architecture with reference to those parallel in other humanities disciplines. Values and value judgments and evaluation methods in spatial design, and critical reading and writing in spatial studies will be introduced. Students are expected to demonstrate their ability of writing an article and criticize a chosen architectural design project..
ARC414- Advanced Digital Modeling in Design
This course provides students with practical hands-on experience in using professional architectural modeling softwares (e.g., 3DStudioMax, Maya, Rhino, etc.). The course introduces advanced methods in 3-D modeling and architectural representation. The course covers the process of creating, manipulating, and communicating through digital architectural models. Students will learn to create algorithms using Grasshopper and Python in Rhinoceros 3D, while exploring parametric modeling, performance simulation, data visualization, and workflow automation.
ARC453 - Urban Environmental Fitting
In this course students shall study various major theories, methodologies and skills for understanding and perceiving the urban space and built environment. The awareness of space and the ways of perceiving it has to be experimented in the students micro scale projects and study of macro scale the world famous projects. Understanding the close relation of any phenomenon with the environment in respect to its individuality as "Fitting" is one of the main goals of this course.
ARC454-Urban Space Analysis
This course intends to take a particular look at reviewing the basic concepts of the urban spaces. The course introduces concept of urban spaces in history. Students will gain knowledge in the process of devising and learning theories related to the subject of study such as urban and architectural space.
ARC455-Environmental Aesthetics
This course deals with basic concepts of environmental aesthetics. This course explores the aesthetic experiences of the built environment from a philosophical perspective and includes detailed discussion on such topics as how is aesthetic appreciation of nature similar to and different from appreciation of art objects?; what criteria may be used to evaluate beauty in nature and in the built environment?; how is our aesthetic engagement with the environment related to our embodiment, and how do the non-visual senses contribute to aesthetic appreciation?
ARC463-Gender, Space and Architecture
This course opens up a relationship between architecture and gender studies. The course will read broadly across disciplines of urban design, landscape design, architecture and interior design. This course will be exploring students how gender impact the design and/or inhabitation of objects and/or spaces.
ARC484 - Business and Marketing
In this course students shall study various major theories, methodologies and skills for understanding the real meaning of main issues about the business and marketing. They will get involved with the real world and real situations in micro scale through the actual/virtual networks to learn about the macro scale business and marketing events. It starts with the basic information about the monetary systems up to "WTCA" and other national and international economic institutions; and will continue with the social and economic policies such as: "WIN,WIN,WIN" policy.