SCHOOL OF TOURISM AND HOSPITALITY
GAÜ'DEN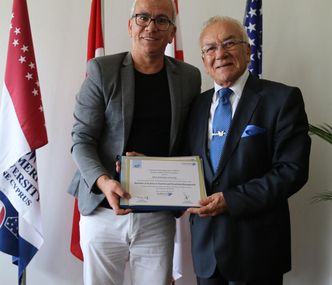 GAU Will Shape The World Tourism Policies
The United Nations World Tourism Organization (UNWTO) urged to GAU Hospitality Tourism Management Higher School issue a call for  ''Affiliate Member ''Also  the actively taking part right given which shapes to World Tourism Policies .
Tourism Education Quality (Tedqual)
GAU Director of Hospitality Tourism Management Higher School Assist. Prof. Dr. İsmet Esenyel after assessment of the invitation from Tourism Education Quality (Tedqual) accreditation  to GAU stated that this is the significant reflection of  gained experiments under the roof of TEDQUAL years of experience and knowledge .
"A Pioneer of Philosophy Serhat Akpınar"
Esenyel, leading the development of the philosophy, said that we will continue to announce our name not only within the borders or TRNC it will be in all countries of the region. Also Esenyel stated that we will actively develop new perspective in education and have justified pride of shape the tourism policies as an Affiliate Member of United Nations World Tourism Organization.
Be Impressed by GAU
Esenyel pointed that the representative who keeps the reports from UNWTO in 3 days influenced by tourism infrastructure and superstructure of GAU and Esenyel said that these interaction and the reports taken in accordance repot note registered as 88% and this ratio will be increase, we will enter into top 25 Universities in the world with five star practice hotel included.
Esenyel pointed that the importance given developments of Tourism, Hotel Management and Gastronomy in last 5 years. Also Esenyal said that these developments have brought us to significant position in this sector, Exchange informaiton and sharing overall movements made differences.
That was great pleasure that seeing all these efforts and practices don't underestimated. Today we see in the TRNC, a university capturing all of a quality standards which has been accredited by the world, GAU is the university that Vocational School of Tourism and Hotel Management.
"We have added value to tourism "
Assist. Prof. Dr. Esenyel said that: This is the reflection of our collective strategic growth decisions within the university, this was due to merge in accordance with the overall dynamism of the same opinion.
Esenyel emphasized that our tourism values such as Chateau Lambousa, Camelot Tourism Social Foundations Complex making a part of our university according to the founder of (GAU INTEB ) and GAU The Chancellor of the Board of Administrator Serhat Akpınar's vision  provides to focus on tourism education and lead to broaden our horizon.