SCHOOL OF TOURISM AND HOSPITALITY
GAÜ'DEN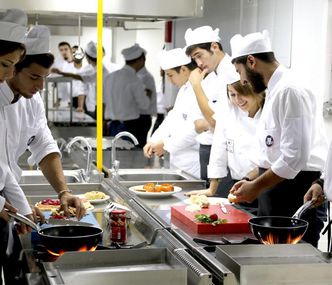 GAU Gastronomy Department Gives World Class Eduacation
Girne American University (GAU) School of Tourism and Hospitality, Head of Department of Gastronomy Assist. Prof. Dr. Hüseyin Bozdağlar gave information about department and achievements of department.
Bozdağlar in his statement said that although GAU Department of Gastronomy is a new department, achievements of department fill them with pride. Bozdağlar indicated that in the Gastronomy department there are so many fields like nutrition principles, and hygiene. He mentioned that the department was established 3 years ago and they have started with 20-25 students but now they have over 100 students. Bozdağlar said that nowadays people from all age groups have interest in gastronomy and he said that everything about food and beverage is under field of gastronomy. Therefore, demand is increasing and will continue to increase.
Bozdağlar made a statement about university candidates who want to choose the Gastronomy department and he said that gastronomy department is a field that food and culture merged. Bozdağlar indicated that Gastronomy field is a field that is formed by the combination of the entire world's food culture. Also Bozdağlar notified that gastronomy have showed up by the combination of the topics like nutrition principles, hygiene, cooking mastery, and cooking techniques. Bozdağlar stated that achievements of Gastronomy and Culinary Arts are related to the foundation and he emphasized that as a GAU they achieved this on the highest level and they outdo other universities in application field. Bozdağlar said that GAU Gastronomy students have so many kitchen options to make practises and he emphasized that achievements that they have attained, appeared when they work with leading expert instructors.
Bozdağlar indicated that Gastronomy is not only culture, it involves all factors that forms culture and in food types, he said that it must be revealed art by blending cooking and culture of the food. Bozdağlar indicated that Gastronomy field is the job that job shortage is very low nowadays. Graduates that are working in this field, receive a high salary. Bozdağlar reminded that they give management lessons besides the department courses. Therefore, graduates will have a director qualification.
Also, Bozdağlar indicated that GAU Gastronomy Department has an international recognition. GAU is approved by the France's most important culinary schools and by institutions that have international assessment literature in culinary field. Also Bozdağlar herald that the world's most popular chefs will come and give education to students in the forthcoming days and he said that students will utilise from this situation ideally.