SCHOOL OF TOURISM AND HOSPITALITY
GAÜ'DEN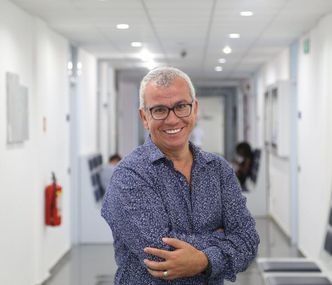 Esenyel; "We should be a brand in tourism education"
Girne American University (GAU) School of Tourism and Hospitality Management Director Assist. Prof. Dr. Ismet Esenyel stated that recent changes in tourism sector would help brand equity of our country to increase.
Tourism feeds 36 sectors
Esenyel emphasized that only people who make the tourism a philosophy of life would make real contributions to it and continued "If we think that tourism sector feeds and affects approximately 36 sub-sectors, turning it into a big industry in our island depends on the youths who will be raised in different tourism fields and will be missionary and vision holder."
Esenyel also referred that there will be a differentiation in all sub-sectors as a standard quality management in a short period of time and stated; "There are almost 2.500 students in our island who study in Tourism Schools of different universities, this number brings serious responsibilities to us."
Foreign students who come from different countries
Esenyel who underlined that there are students from 32 different countries under GAU School of Tourism and Hospitality Management, referred that "With our direction, they will make great contributions for the development of tourism industries of their countries and the background and educational level they take from us will bring them to important positions in their professional tourism and hotel management lives in future."
By emphasizing that there are GAU graduates who work in senior administration position in the active tourism sector in United Arab Emirates, Russia, Iran, Turkey, Pakistan and TRNC, Esenyel indicated; "Our graduates is our source of pride, one day, they will be in the most important and key positions of their own countries."
Gastronomy and Hotel Management Education
"In GAU Gastronomy and Culinary Arts, we attach great importance not only to European cuisine but also Mediterranean cuisine. Thus, we have added successful and professional lecturers who also represent the new generation to our cadre; this will help our students to gain new perspectives and manual skill."
Cooking course for amateurs
Esenyel specified that there is a huge demand of sector representatives and amateurs for them to give cooking courses at weekends and continued "We are starting these courses in November; therefore, our Gastronomy cookery will be opened to public."
Families direct their children
Esenyel who emphasized that hotel management started to be taken very seriously and in order to take part in this sector, families started to encourage their children for department of Hotel Management stated that "Opportunities we provided this year in the position of Managerial Trainee for students from our country and Turkey with the education idea that covers all hotel departments have a great effect for us to be preferred and we will increase and develop this"
Courses for amateurs
Esenyel underlined that GAU School of Tourism and Hospitality Management is in a position which is continuously growing and developing in the meaning of accreditations and international memberships and referred that "Along with the courses they take, our foreign students also receives American Hotel Lodging Educational Institute certificate and diploma and it is an important privilege for them." Esenyel continued his words by indicating "This winter, we are starting AHLA Supervisory GOLD Training Programs for mid-level and senior managers who works within our sector, these courses will only continue for 4 weeks and 24 hours" and stressed that these certificates and diplomas will be started under INTEB of AHLEI certification programs which are valid in 200 universities and 120 countries and this will be a big achievement for the sector.