GAÜ'DEN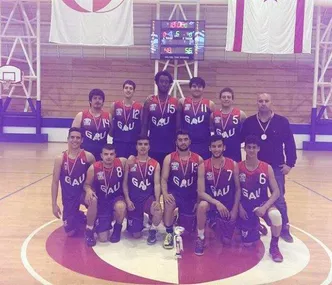 GAU Outscored NEU by 55-33 Score
Overwhelming superiority from GAU
In Intercollegiate Basketball Match GAU held a victory over NEU which was signified as the strong opponent of the group, with 55-33 clear score after an overwhelming game. GAU Basketball team manager Kenan Güvensoy said that " As is seen, we won the match with the clear score by overcame our opponents by a long way".
 "Our aim is to be a Champion"
GAU Basketball team manager and lecturer Kenan Güvensoy made evaluations about matches and he said " We reached this success with self-sacrificing exercises of our students and with big contribution of our club team players, our target is championship. Therefore, we will continue our practices without cease".
Çağkan and Mertcan made an indelible impression
Impressive gaming of GAU basketball players Çağkan Kılıç and Mertcan Boyacı who removed NEU from the court with overwhelming play, is expressed as the sports authorities' common remark.