GAÜ'DEN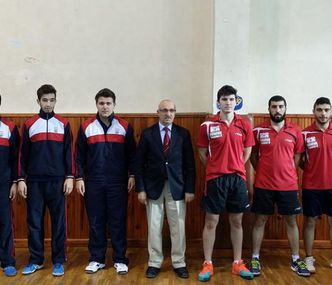 GAU Table Tennis Team As Unrivaled in Turkey
After end of the 2nd half which will be in February and 3rd half will be in May GAU, continues trainings intensively, table tenis team aims the Turkey Universities Table Tennıs League Championship.
10 victories in 10 matches
After 10 matches that have been played in 3 series that end up in victory Girne American University (GAU) Sport Coordinator Assist. Prof. Muzaffer Doğgün stated that Table Tennis Team will continue to achieve success, make a name in the international arena; upcoming period team will add more achievements. Doğgün emphasized that our target is overcome in this way the sports embargo on the TRNC, therefore we continue in a great rigor of our work.
Match Results
These are the results of GAU Table Tennis Team headed by Assist. Prof. Dr. Muzaffer Doğgün, trained by Menteş Baytaroğlu and as athletes Hüseyin Durmaz, Cemal Kara and Ercem Ruhluel.


­GAU-­Recep Tayyip Erdoğan University:3-­0


GAU-Kastamonu University:3-­0


GAU-­Karatay University :3-­0


GAU­-Van University:3-­0


GAU-­Celal Bayar i University:3-­0


GAU-­Osmangazi University:3-­0


GAU-­Bursa Teknik University: 3-­0


GAU-­Muğla Sıtkı Koçman University:3-­0


GAU-­Atılım University :3-­0


GAU-Süleyman Demirel University:3-0