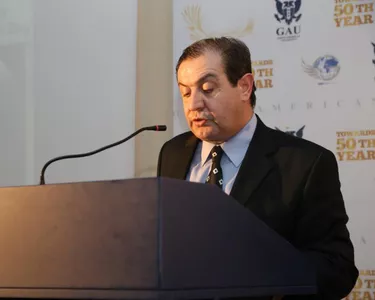 MARCH 18TH ÇANAKKALE VICTORY AND MARTYRS' DAY EVENT BY GAU
WHAT'S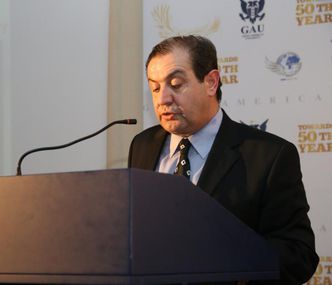 MARCH 18TH ÇANAKKALE VICTORY AND MARTYRS' DAY EVENT BY GAU
The event organized by the Faculty of Education was held at the International Millennium Senate Convention Center in Girne American University (GAU) due to the 18 March Çanakkale Victory and Martyrs` Day
GAU Faculty of Education commamorated Çanakkale Martyrs in event organized for 104th anniversary of March 18 Çanakkale Victory and Martyrs` Remembrance Day.
The ceremony, which was held at the Millennium Senate Convention Center, first began with a 1-minute silence for the Martyrs and the National Anthem. The opening speech of the ceremony was carried out by the Vice Dean of the Faculty of Education of GAU, Asst. Prof. Dr. Bayram Küçükoğlu, who said, "We commemorate the 104th anniversary of Çanakkale Victory with great pride and honour and remember our martyrs with respect and mercy. How happy we are that we are the heirs of a unique victory in the history of the world"
Asst. Prof. Dr. Bayram Küçükoğlu emphasizing that the soldiers are still being moved to someone as an adjective, said "Sergeant Mehmet is the first hero  of Çanakkale Land Battles whose name was disclosed publicly. After this event, the Turkish soldiers would be referred as Mehmet and Mehmetçik."
Yrd. Doç. Dr. Bayram Küçükoğlu son olarak; "We remember all our hero mehmetçik martyrs with gratitude and respect, especially the heroes of the Battle of Çanakkale, Gazi Mustafa Kemal Atatürk and all heroic commanders Sergeant Yahya, Sergeant Mehmet, Corporal Seyit, creators of this epic victory which gave spiritual support, energy and hope in our hardest times."
Commemoration ceremony came to a close after showing of a short film titled "Minnetarız"(We`re grateful) prepared by Deputy Dean of Faculty of Education Asst. Prof. Dr. Bayram Küçükoğlu, reading of poem of Mehmet Akif Ersoy`s "To Martyrs of Çanakkale" by students Faculty of Education Department of Turkish Language Teaching Ezgi eker and Furkan Deliktaş, İlayda Özcan`s singing of The Ballad for Çanakkale, songs sung by students and Head of Department of Music Teaching, Asst. Prof. Dr. Ashmet Sönmezler.