GAÜ'DEN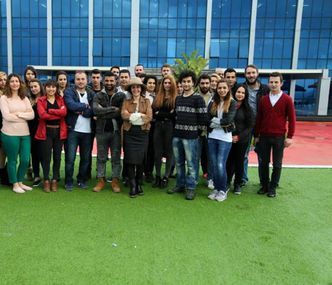 GAU to Organize An Exhibition With In The Scope Of The Project 'Life Is Colorful With Children'.
Social Responsibility Project cooperated with GAU students of faculty of communication and AUC, continues with the exhibition '' Works of Tiny Hearts '' as 13th week activity. Students of Communication Faculty will organize and exhibit the works made by the children who lives in Arabahmet, on Friday March 11th, 2016 at 15.30 in Nicosia Arabahmet culture and art house.
Head of GAU Digital Marketing and Social Media Management Asst. Prof. Feriha Dikmen stated that the social responsibility project ''Life is colorful with children'' as 13th activity will be held in Arabahmet culture and art house. This exhibition aims to develop primary school students' personal skills and gain self-confidence. Dikmen indicated that with this project organized by students of communication faculty; besides developing practical communication skills also they have justified pride of being an individually beneficial for the society.
Dikmen also stated that the exhibition will be open to the public, and that "we will be honored to be with ''Tiny Hearts '' for the sake of living and sharing the moment".