FACULTY OF BUSINESS AND ECONOMICS
GAÜ'DEN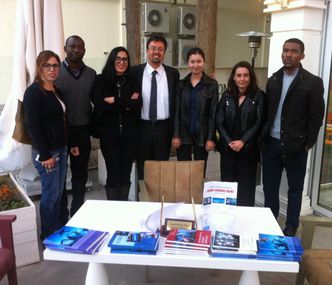 GAU Academician Organised An Autograph Session For His Books That Published in 40 Countries
In the Book Autograph Session, participation was very active and there was a long queue. Besides the Kyrenia Community, nearly 100 GAU students, GAU Faculty of Managements Lecturers met and pride-filled moments were lived.
Cıngıllıoğlu made a statement in his autograph session and he thanks everyone who participated in the event and he indicated that he is glad to spend this organization with them and he is happy to give books to their students that bearing the signatures of their teachers.
Principles of the 21st Century Leadership – 2011, International Logistics– 2015, and International Business Essentials– 2016 books were studied by the Faculty of Management students as a textbook and besides that, they reunite their readers in leading bookstores in the world like Amazon.com, Barnes& Noble, Booksamillion, Alibris, and Booktopia in over 40 countries.