TRAINING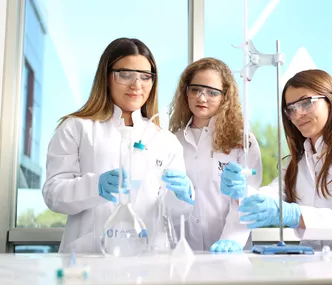 Dear Student Pharmacist,
Below, you can find the document regarding the Internship Explanatıon Meeting held on Monday,25.04.2022.
PHARMACY INTERNSHIP - EXPLANATION MEETING.pdf
Internship Payment Bank Information:
Girne amerikan üniversitesi Eğit.Vedan.Hiz.Ltd.Şti.
TR970006400000111350866726
ATTENTION TO DEAR STUDENT PHARMACISTS WHO WILL COMPLETE "PHARMACY INTERNSHIP" (PHR200, PHR300, PHR400) IN SUMMER 2022
PHARMACY INTERNSHIP PROGRAMMES (PHR200, PHR300, PHR400) ARE "MANDATORY COURSES".
PHR200 INTERNSHIP IS APPROPRIATE TO BE COMPLETED AT COMMUNITY (RETAIL) PHARMACIES .
PHR300 AND PHR400 INTERNSHIPS CAN BE COMPLETED AT COMMUNITY (RETAIL) PHARMACIES BESIDES HOSPITAL PHARMACIES AND THE PHARMACEUTICAL INDUSTRY.
PHARMACY INTERNSHIP (PHR200, PHR300, PHR400) SHOULD BE DONE FOR 36 WORKING DAYS.
A) FILLING THE "INTERNSHIP APPLICATION FORM" WHICH IS ON THE WEBSITE OF THE GAU SCHOOL OF PHARMACY UNTIL 03 JUNE 2022, FOR THE APPROVALS.
ATTENTION: AFTER THE APPROVAL OF THE COMUNITY PHARMACY (RETAIL PHARMACY) / HOSPITAL PHARMACY / PHARMACEUTICAL INDUSTRY) MANAGEMENT;
THE FORM SHOULD BE SUBMITTED TO THE pharmacy@gau.edu.tr E-MAIL ADDRESS or FACULTY SECRETARY FOR THE APPROVAL OF THE INTERNSHIP COMMITTEE, GAU SCHOOL OF PHARMACY.
B) FOR HOSPITAL PHARMACY AND PHARMACEUTICAL INDUSTRY INTERNSHIPS,
THE HOSPITAL / INDUSTRY MANAGEMENT MAY REQUEST A "LETTER OF APPROVAL" BY THE DEAN'S OFFICE THAT YOU ARE A "GAU SCHOOL OF PHARMACY STUDENT".
THE REQUESTED "LETTER OF APPROVAL" MUST BE SEND TO THE HOSPITAL / INDUSTRY MANAGEMENT BY THE STUDENT PHARMACIST.
C) THOSE WHO WILL DO THE PHARMACY INTERNSHIP IN TRNC;
SHOULD APPLY TO THE "CYPRUS TURKISH PHARMACISTS ASSOCIATION" AS THE FIRST PROCEDURAL STEP.
WHEN SENDING YOUR FORMS TO THE MAIL SUBJECT:
1-YOUR INTERNSHIP CODE (PHR200-PHR300-PHR400)
2-STUDENT'S NAME-SURNAME AND NUMBER MUST BE WRITTEN.
NOTE:SUMMER INTERNSHIP AT OUR FACULTY BEGINS BY THE 4TH SEMESTER (END OF THE 2.GRADE).
ATTENTION TO ALL STUDENT PHARMACISTS WHO HAS DIFFICULTY IN FINDING A COMMUNITY PHARMACY IN KKTC (TRNC)FOR THE SUMMER INTERNSHIP.
YOU SHOULD APPLY TO THE"KKTC (TRNC) PHARMACISTS' ASSOCIATION"WITH THE SIGNED AND DATED"INTERNSHIP APPLICATION FORM" BELOW.FILL AND SIGN THE FORM BEFORE SUBMITTING TO THE VICE-DEAN Dr. PARIA EGHBALI BY JUNE 06, 2022.
KKTC PHARMACISTS' ASSOC - INTERNSHIP - APPLICATION FORM.pdf'
GAU FACULTY OF PHARMACY
INTERNSHIP COMMITTEE
Dear students,
Below find the attachments regarding summer-time training program (staj)
You have to fill all the required forms by your authorized pharmacists at which you will perform your summer-time training.
ATTENTION FOR ONLY TURKISH STUDENT: You will need to forward the documents listed below to the faculty.