GAUSEM | LIFELONG LEARNING CENTER
GAÜ'DEN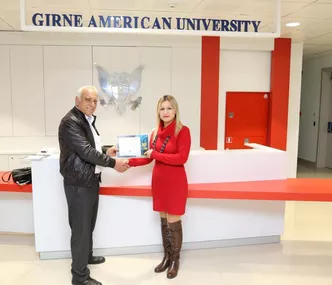 GAUSEM Bee-Keeping Certificates for Trainees
Girne American University Lifelong Learning Centre (GAUSEM) individual and institutional certified "Beekeeper" Education program trainees received their national and international level certificates from different personal development, hobby and skill courses.
Taking place at GAU Cyprus Campus Freedom Complex, the award ceremony certificates for the trainees who were successful at the end of the course were presented by GAU-SEM Director Ayşegül Nacak.
In the statement made by GAU, while reporting the successful completion of national and international level individual and institutional certified "Beekeeper" education programs which were created by academic experts to EU standards, certificates were distributed to the trainees who passed the examination at the end of the course. Also it has been reported that while different certification and education courses are nearing completion, it has been emphasized that alongside the individual development purpose of these courses they want to share over 30 years of scientific knowledge with the community and give new hobbies for individuals in modern society that has stressful life expectancies.
Detailed information about GAUSEM courses were included in the statement and can be viewed on www.gau.edu.tr website or by telephoning 0392 650 2000 extension 1619 and it was emphasised that for those who would like to participate in these programs they can obtain further information by applying to gausem@gau.edu.tr email address.