GAÜ'DEN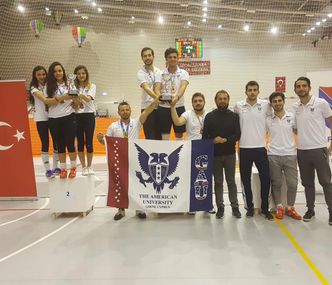 GAU IS THE CHAMPION OF TURKEY IN FENCING
By achieving great success in the Turkey Fencing Championship which took place in NevşehirBektaşVeli University; Girne American University's (GAU) men's sabre team came in first place and the women's foil team came in third place.
In the Championship which took place in NevşehirHacıBektaşVeli University between the dates 14- 16 march, whilemen sabre athletes wona golden medal, women foil athletes won a bronze medal.
In the statement which the coach of the Girne American University Fencing team made, he pointed out that they are happy that they were rewarded with their efforts and he also congratulated his athletes for their outstanding success in these challenging competitions and thanked the ones who contributed in the process.In the rest of his statement, he said; on the second day of the Turkey intercollegiate Fencing Championship, GAU men's sabre team (Volkan Şener, AlperAkkuş, UtkuTüz)became the champion by defeating ODTÜ and Bilgi University. Again, on the same day, GAU women's foil team by coming third place, won the 2nd cup for their University. On the last day of the competitions, GAU men's foil team (Burakİpek, OğuzhanBeyoğulu, DoğukanUğur Balkan) proved the success of GAU by winning the 3rd cup. Furthermore, on the first day of the competitions, the athlete of men's sabre team Volkan Şener Ferdi, became the champion of Turkey.