SCHOOL OF MARINE AND LOGISTICS
GAÜ'DEN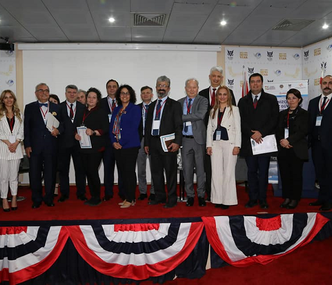 MARITIME AND NAVAL SECURITY FORUM 2019, WAS HELD IN GAU WITH TOP OFFICIALS ATTENDING
Turkish Asian Center for Strategic Studies (TASAM) & National Defense and Security Institute (MSGE) and Girne American University (GAU) and American University of Cyprus (KAU) colloboratively held forum with theme of "New Maritime Security Ecosystem".
Top officials have attended to the forum which had its opening speeches by TASAM President Süleyman ŞENSOY, Girne American University Rector Prof. Dr. Kutsal ÖZTÜRK, Rector of Cyprus American University Prof. Dr. Uğur ÖZGÖKER, Cyprus Turkish Peace Forces Commander, Major-General Yılmaz YILDIRIM, Chief of Staff of Navy and Rear Admiral Cihat YAYCI.
The forum's main theme which was decided as "New Maritime Security Ecosystem and Eastern Mediterranian",  and had subthemes of extremely important problem of Turkey and TRNC's future, New Maritime and Naval Security", and; "Future and Vision of Turkey's Maritime Ecosystem", "Structuring of Turkish Navy and Force Distribution / Force Focusing" "Greece`s Military Activities in the Aegean and the Security of the Islands", "Exclusive Economic Zone Debates and Maritime Law Violations", "The Place and Importance of Environmental Policies in Maritime Safety", "Current Situation and Sectoral Analysis of Turkish Maritime Trade", "Defense Industry Studies on MİLGEM and Maritime Security", "Turkey`s Shipbuilding Shipbuilding Capabilities", "Hinterland and Port Expansion Plans of Turkey", "The Importance and Importance of Maritime Tourism in the Country Economy", "Security of the Black Sea after the Kerch Strait Crisis", "Aegean Sea Security and Aggressive Discourses after Kardak Crisis" "Areas in Turkey`s Sovereignty 'fait accompli's" "Energy Supply Security and the New Ecosystem of Competition in the Eastern Mediterranean", "Turkey`s Deep Sea Drilling Capabilities" and "Construction of a Turkish Naval Base in Cyprus Debate"
Nişantaşı University faculty member of the forum attendees Dr. Gökhan Ak, in his opening speech emphasized the importance of activities such as these and said; Such events are the kind of things we need to deal with. I would like to thank everyone who has contributed to the organization of this event.
Chief of Staff of Navy Rear-admiral Cihat Yaycı emphasized that he especially wanted to participate in this form and thanked the organizers of the event; "Although the Forum has a great meaning, it also answers a big question. Turkey's not only a motherland with its land, but its seas and airspace above it as well. Of course, the Turkish Republic of Northern Cyprus is a very important part of our country."
Yaycı said they were trying to fit the concepts in the Republic of Turkey and the Turkish nation, stressed the importance of creating the doctrine of maritime connections in the media and the need for a very serious maritime safety.
Rear Admiral Cihat Yaycı said that they began to train marine jet Turkey, the formation of such areas and stated that at the beginning of the enlargement countries that support, In Turkey, the formation of such areas and stated that at the beginning of the enlargement countries that support.
Chairman of TASAM Süleyman Şensoy emphasized that being a naval force depends on the becoming more maritime as a society and state and said  "Although there have been shown activity in maritime security by associations, foundations and non-profit organizations, There is a need for think tanks and institutions that can evaluate all aspects of marine geopolitics and maritime power together and contribute to maritime by analyzing the maritime power; offer scientific options to capacity-makers, entrepreneurs, investors and decision-makers"
Şensoy emphasized importance of maritime-themed networks between Turkey and other countries` and providing academic contribution towards the creation; he stated that in every field related to maritime, regional, continental and global developments should be followed and academic suggestions should be directed to international relations, defense, security, economy, law and socio-cultural policies.
Rector of Girne American University Prof. Dr. Kutsal Öztürk; ''I want to repeat that we are in the believe in always defending what we deserve. While thanking everyone who organized this Forum, regarding what our Ambassador has said that this land is beautiful and that we should not give it to anyone, we will always protect this land."
Rector of the American University of Cyprus Dr. Ugur Özgöker has said; "One of the founding goals of the American University of Cyprus, the sister university of Girne American University, is diplomacy and international relations. Because we have a university in the last divided country of the world with the contributions of the World Diplomats Association. Thank you very much for giving us this opportunity to the Chairman of TASAM Süleyman Bey and I would like to say that we will always be with them with these contributions to maritime."