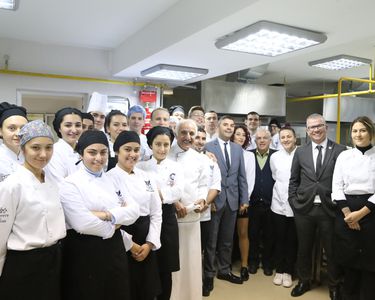 A NEW YEAR'S EVE DINNER FROM GAU'S DEPARTMENT OF GASTRONOMY
WHAT'S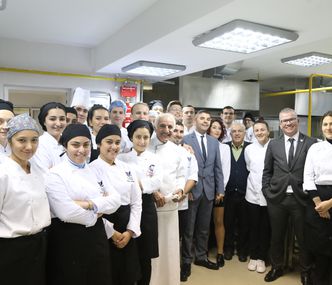 A NEW YEAR'S EVE DINNER FROM GAU'S DEPARTMENT OF GASTRONOMY
Shortly before the new year, within faculties and schools; academicians, students and administrative staff gather to continue the celebration activities.
The special New Year's Eve dinner was held at the Girne American University (GAU), School of Tourism and Hospitality, Department of Gastronomy Practice Kitchen and took place at Redroom Restaurant. GAU Rector Prof..Dr. Ali Haydar, Vice Rector of GAU and Dean of Faculty of Health Sciences Prof.Dr. Prof. Dr. Tülin Bodamyalı, former Undersecretary of the Ministry of Tourism and Academician of GAU School of Hospitality and Tourism Management Assoc. Prof. Dr. İsmet Esenyel, faculty deans, other school directors, GAU academics and department students showed participation.
Gastronomy students prepared the special New Year's menu and GAU School of Tourism and Hospitality Director Assoc. Dr. Hüseyin Bozdağlar made a statement about the New Year's dinner presentation and said; "Our main purpose in this dinner is to ensure that foreign students continue their 'Christmas' traditions and feature their education and training. New Year concept dishes; together with our students we made a Christmas cake, stuffed turkey and pumpkin soup for our guests. I would like to thank all my teachers and students who participated. I wish everyone a happy new year ".