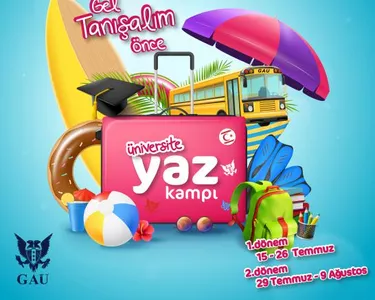 REGISTRATIONS FOR GAU'S SUMMER CAMP BEFORE STARTING UNIVERSITY IS STILL CARRYING ON
WHAT'S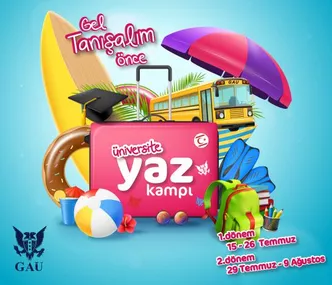 REGISTRATIONS FOR GAU'S SUMMER CAMP BEFORE STARTING UNIVERSITY IS STILL CARRYING ON
Girne American University (GAU) Applications for the "University Summer Camp" for young people who will take new steps to the university, in which 35 years of knowledge and experience in higher education are being prepared for university exams and where they can gain university and campus experiences, are continuing.
According to a statement made by GAU, the "University Summer Camp" programme for high school students who are gelling ready for university and for graduate students who are getting ready for university, is to help the participants to get some university and campus experience. In GAU, which has student profiles from 135 different countries, it is reported that the participants will be hosted at a summer school designed with both courses and activities in a multicultural environment.
The '' University Summer Camp", which is organized in two terms in two weeks; students can choose from university courses including fine arts, design, management, engineering, humanities and communication. Students will be educated for the courses they register for every weekday for two weeks and will experience a wonderful orientation towards becoming a university student by having an unforgettable holiday in the program enriched with extracurricular sports, arts, culture and entertaining activities.
The "University Summer Camp", which will be held in two terms; the first semester will be between July 15 - July 26 and the second semester will take place between July 29th - August 9th. In the statement that all students will be covered by the Girne American University insurance during the period in which they participate, it will be deducted from the courses that will be offered within the "University Summer Camp", if the students settle in the related department.
This is how GAU's "University Summer Camp" offers courses according to the departments;
Course Code        Course Name                     Faculty
IÇM132                Colour Theory and Applications      Faculty of Architecture, Design & Fine Arts
RPDAS212           Creative Drama                                      Faculty of Education
PSYC100               Introduction to Psychology                Faculty of Business & Economics
CS201                     Communication Skills                         Faculty of Humanities
JRB207                     Basic Photography                            Faculty of Communication
MÜH101                  Introduction to Computers                     Faculty of Engineering
Accommodation within the faculty + food + internal transportation cost=1.500 TL.
Candidates who live in the TRNC with 2 meals a day + internal transportation cost= 500 TL.
The registration fee is in the these costs.
Documents that are Necessary
The fee must be paid via online.
Student Certificate
Information form that has to be filled in by the student (this certificate will be sent to you during your acceptance).
Digital passport photo.
A photocopy of the front and back of your ID Card.