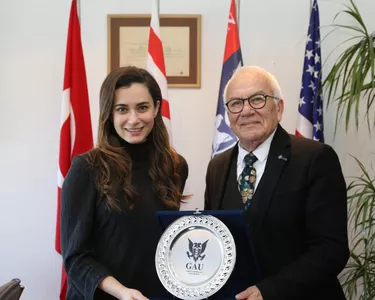 RENOWNED ACRESS HANDE DOĞANDEMİR MET WITH HER FANS IN GAU FOR MARCH 8TH INTERNATIONAL WOMENS DAY
WHAT'S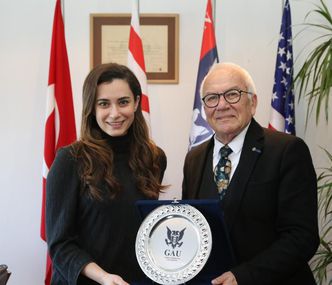 RENOWNED ACRESS HANDE DOĞANDEMİR MET WITH HER FANS IN GAU FOR MARCH 8TH INTERNATIONAL WOMENS DAY
Girne American University (GAU) has held an interview with Turkey`s famous cinema and TV series actress Hande Doğandemir as part of the March 8 International Working Women`s Day.
Students and GAU family showed great interest in the talk with topic of "Women and Career" with Hande Doğandemir at GAU International Congress Center Spectrum Hall. Doğandemir talked about the problems experienced by the female characters in the series in which she took part in and the general problems experienced by women in our country and around the world; in fact every woman said that there were difficulties in their life.
Doğandemir stated that women are less considered for in our social life, which is dominated by men today, and said "We need to think about what women mean to us not on a single day, but every single day."
GAU Rector Prof. Dr. Kutsal Öztürk, who hosted renowned actress Hande Doğandemir, celebrated Doğandemir`s International Womens day and presented a thank you plaque and flowers for not declining their invitation and conducting interview with GAU.