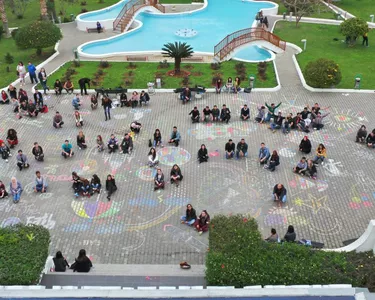 An Admiring Protest Climate Change by GAU Students
WHAT'S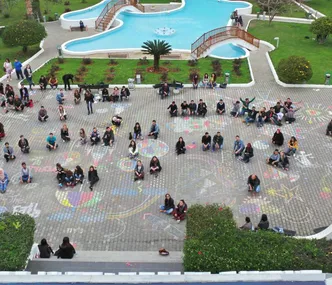 An Admiring Protest Climate Change by GAU Students
The GAU architecture, design, and fine arts faculty students have held a colourful remonstrance as it was 'Earth Day Activities'. The protest had been implemented with the existence of over one hundred students.
Taking place in front of the GAU Rectorate building, at the event the attention was drawn onto the excessive usage of fossil fuels and the dependency towards the usage of electrical energy, thus resulting in different global footprints like, environmental pollution, inefficient usage of scarce resources and climate change. The students had drawn various pictures to circle awareness around this tender issue.
Support from Academicians
At the leadership of GAU architecture, design and fine arts dean Assoc. Prof. Dr Hossein Sadri and the support of GAU illustrations department members Assist. Prof. Dr Canan Birsoy Altinkas and Sibel Kemal Uzun, and GAU architecture faculty members Assist. Prof. Dr Balkiz Yapicioglu and Aslihan Aldis, a large sum of students had cooperated at the event.
Earlier as the Former Minister of Environment, and currently, the GAU environment and nature research centre director; GAU CEO and Vice Chancellor of the Board Assist. Prof. Dr Asim Vehbi had emphasized upon the World's environmental issues in his announcement addressing students. Asim Vehbi, underlined the matter of using Alternative Energy Resources and the protecting of the forestry, which is linked with human inference, and called the TRNC government to take urgent act towards this matter.
The awareness of the architectures at this matter is very important, claimed Vehbi, and stated: 'congratulations to the GAU architecture, design and fine arts students for showing tenderness to these environmental issues'. Vehbi also records how important it is for students to be educated at an apprehensive and conscious environment.