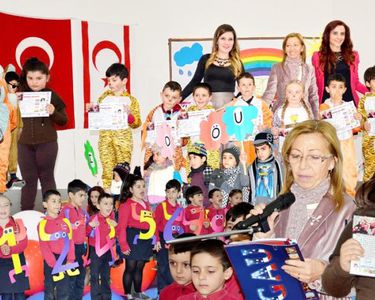 The Future American College students showed their skills in Reading Day
WHAT'S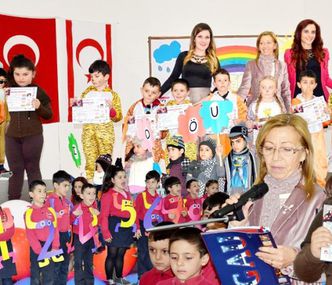 The Future American College students showed their skills in Reading Day
"Read and Write to Enlight"
Reading Day Activities, which was held at Girne American Elementary, educating under Girne American University Group of Schools in Nicosia, has attracted great interest by students and students' parents.
At the event, which was also attended by The head of GAU Health, Sports and Culture Department Türkay Akpınar, GAU managers, directors and student's parents and relatives watched the 1st year students acquire the ability to read with pride and happiness.
Success to the Hard Work
At the event organised, The Future American College Director Sevim Kayıkcı stated that  "Our students have been working very hard from the opening of the school till this day,  they were very tired but they achieved it. Prepared with success and devotion, the 1st class students came together in Reading Day and shared their happiness with their parents.
Reading Day Activities started with National Anthem, GAU Anthem and stand in silence. Singing the "1st Class Anthem" in chorus, little students also counted the numbers they learned. Students, who learned to read in English and Turkish simultaneously, also presented English alphabet with individual examples. They shared their development since the first day of school with their family relatives.
The Reading Day enlivened with the play called "The Ant and the Grasshopper" from the toddlers.
On this special day, the little students, who began to step into life, revived the professions they thought they could do in the future. They also celebrated their French education with dancing and singing a French song called "La Danse d`Helene". The poetry and show, which was prepared with vowles by students, was watched proudly by parents. It was very significant that the parents involved by applauding the students who dance to english songs.
Sevim Kayıkçı's Speech
Kayakçı stated that everyone was moved by the choir consisting of students, singing the Reading Day songs.
Kayakçı also stated the followings;
"The most important basic skill, which affects our whole life, is to learn how to read and write. Reading is the first step to understanding life. Every student of The American Future grows to become an individual, who can adapt to the changing conditions of world, express itself, knows their duties and responsibilities, equipped with all kinds of information, contemporary, secular and democratic. We give particular importance to the parent-teacher-student dialogue in our school. The teachers monitor the development of students step by step and inform the parents about these developments monthly. Our little ones that you have entrusted to us 7 months ago, today cracked the door open to become a knowledgeable and qualified person by reading. We wish them luck in that way."