GAÜ'DEN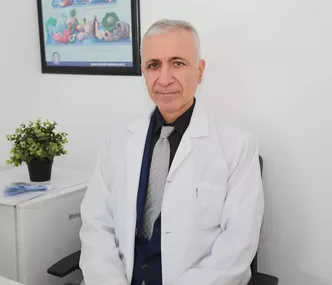 GAU MEDICAL FACULTY ACADEMICIAN PROF. ACAR: "DO NOT IGNORE WATER IF YOU WANT TO LIVE HEALTHY"
Having worked in public and private hospitals for many years and working as an academician at Girne American University (GAU) Faculty of Medicine, Prof. Hasan Acar made very important statements about living a healthy life.
In his statement, Prof. Hasan Acar stated that health is not only a long life, but also a quality life in terms of mental, physical and social aspects until death, and in connection with this, he drew attention to the importance of drinking water. Emphasizing the importance of consuming enough water, Acar said, "Drinking sufficient and quality water is a very important issue. More than half of our body consists of water. Therefore, the more water we drink, the higher the quality of our health. Harmful substances in the body are excreted with water. The ways of elimination of poisons and cancer-causing substances, heavy metals, and in short, all harmful wastes that appear in the body and are taken into the body in various ways are through urine produced through the kidneys and feces produced through the intestines. In both ways, plenty of water is needed as a carrier material in order to adequately dispose of these harmful wastes."
"DRINKING WATER IS GOOD FOR EVERYTHING FROM REGULATING BLOOD PRESSURE TO LOOKING YOUNG"
In the continuation of his statement, Acar stated that drinking enough water is the substance that dilutes the blood, besides vascular occlusions, it regulates blood pressure, muscles and joints work more easily, migraine and back pain are triggered when the body is dehydrated.
If you want your face to look younger, drink water, Prof. Hasan Acar said, "Water increases the tension of our skin and moisturizes it. All the cells in our body are in water. When we do not drink enough water, this water decreases and our skin shrinks and wrinkles like a deflated balloon."
Stating that water consumption also prevents cancer, Acar also stated that when enough water is drunk, cancer-causing wastes come into contact with the bladder and intestinal wall less, and bladder and bowel cancers occur at a much lower rate.
"WATER CONTAINERS ARE AT LEAST AS IMPORTANT AS THE QUALITY OF THE WATER"
Emphasizing that drinking water is as important as consuming water in containers, Acar said, "The plastic containers of 17-liter large carboys sold in the market do not comply with EU health standards and there is a risk of being carcinogenic. For this reason, we should definitely examine the signs on the bottom of these containers and choose the ones that comply with the health standards. In addition, it is possible for some carcinogenic substances to appear and pass into the water when the water in plastic bottles is frozen for a long time in a hot environment or vice versa. The ideal storage environment of water should be between +4 and +20 degrees in the dark."