GAÜ'DEN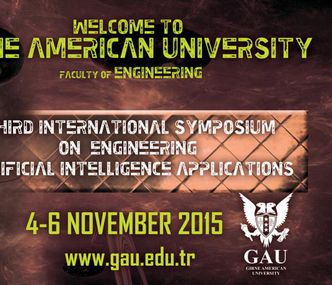 The Third International Symposium On Engineering, Artificial Inteligence and Applications Of GAU, Starts On 4 November
IT IS EXPECTED FOR OVER 200 INTERNATIONAL SCIENTISTS FROM 25 DIFFERENT COUNTRIES TO PARTICIPATE IN THE SYMPOSIUM ON APPLICATIONS OF ARTIFICIAL INTELLIGENCE, WHICH WILL BE HELD FOR THE THIRD TIME, BETWEEN 4 AND 6 NOVEMBER, 2015.
Over 200 international scientists, with more than 100 scientific presentations, are attending to the "3rd International Engineering, Artificial Intelligence and Applications" symposium, held by Girne American University (GAU) Faculty of Engineering.
The symposium, which will host scientists from all over the world, starts on 4 November 2015, at 9:30, in Girne American University (GAU) Cyprus-Girne Campus Millennium Senate Congress Hall.
The President of the Symposium and GAU Vice-Rector Assoc. Prof. Dr. Zafer Ağdelen, stating that strong participation in the symposium was expected, expressed that the Third International Engineering, Artificial Intelligence and Applications Symposium will take place successfully.
Ağdelen, who made important statements on the subject, stated that the goal of making the Applied International Artificial Intelligence Symposium a traditional became reality by organizing it every year. While stressing that scientists from 25 different countries that are authority in their own fields will participate with more than 100 presentations, he also stated that Prof. Dr. Alexander Kostin and Prof. Dr. Adnan Khashman, who are world-wide experts on artificial intelligence, will be participating in the symposium. Ağdelen also stressed that, as every year, the articles presented within the symposium will be published on GAU Journal and on the related worldwide organizations and publications, after the selection of the science board.
The presentations, which will be presented under the 3 major topics in the Third International Engineering, Artificial Intelligence and Applications Symposium, will be about the following areas:
On the topic of Artificial Intelligence: Neural Networks, Artificial Intelligence and Evolutionary Algorithms, Developing Technologies, Intelligent Agent, Brain Models/Informatics Sciences, Expert Systems, Decision Support Systems, Computer Aided Teaching, Fuzzy Logic and Mechanical Learning, Intuitive Research Methods, Smart Databases.
On the topic of Engineering: Electro-Mechanic Systems, Power Engineering, Fuel Cells, Renewable and Alternative Energy Systems, Power Electronic and Drivers, Power Systems for Buildings, Power Systems, Signal Processing, Electronic, Measurement Systems, Digital Filter Design and structures, Antennas and Propagation, Voice/Speech Processing; Wavelet Processing, Computer Networks, Developments in Database Field, Software Engineering, Sea Wave Mechanics and Hydrodynamics, Design and Construction of Sea Structures, Earthquake Engineering, Computer Application in Civil Engineering, Construction Materials, Geotechnical and Soil Mechanics, Design and Construction of Pre-tensioned Concrete Buildings, Project Management, System Analysis.
And on the topic of Applications: Signal Processing, Computer Feedback, Robotic, Pattern Recognition, Finger Print Recognition, Finance and Marketing, Education, Developing Applications, Military, Microwave Applications, Neural Networks, Face Recognition, Health Applications.