GAÜ'DEN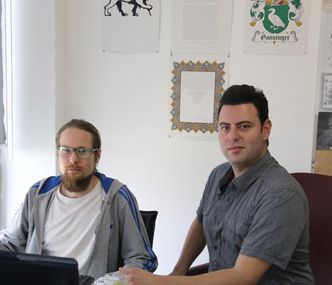 Another New Publication From GAU Faculty Of Communication Academicians
Girne American University, while moving towards its 50th anniversary, is completing the steps of increasing the academic publications, which was between the goals of this year, with its number of students approaching to 25,000. The book of Assoc. Dr. Martin A. M. GANSINGER and Dr. Ayman KÖLE, faculty members of Girne American University Faculty of Communication, that was published and exposed for sale in Germany, had a great impact. Academicians wrote and performed the researches of the publication together and it bears the name of "from Tribal to Digital: Effects of Tradition and Modernity on Nigerian Media and Culture". The book attracts strong demands also from the web sites. In a statement made from Girne American University, it was stated that the book written by the faculty members of GAU could be informative with its researches on communication and about what students can change and be decisive about new horizons. The University underlined that they always support the academic staff about new researches and publications.
CONTRIBUTION TO ACADEMY FROM GAU ACADEMICIANS
GAU Faculty of Communication lecturer Assoc. Dr. Martin A. M. GANSINGER, the author of the book, made a statement about the book. GANSINGER stated that he performed a field research in Ghana for 9 months and that this research makes an entrance to the rich and vibrant culture of the West Africa as well as its realities. He expressed that he directly associates the works of the Nigerian students here and that they are aiming to reach a wider audience.
Martin GANSINGER stated with the following words that in terms of Africa, the book makes a valuable contribution to the question of media facades, cultural studies and development questions: "The idea of this arrangement was born with advising Adeyemi Oyebade in master`s thesis, giving a lecture to Stella Ososen Ejeomo in the class and with become aware of the valuable perspectives who saw their Nigeria problems."
GAU ADDED A NEW ONE TO ITS RESEARCHES
GAU Faculty of Communication lecturer, Dr. Ayman KÖLE, the other author of the book, assessed his thoughts about the book from a different perspective. Dr. KÖLE drew attention to the importance of the book with these words: "The part of being a lecturer is not only to teach and to transfer knowledge. Knowing the capacity of the students, sharpening their researching skills and recognizing their potential is an important part in helping to educate the intellectuals of the future." Also with this thought, KÖLE expressed that the most encouraging side of the book is that they will be able to help to combine the new analytic information's the Nigerian students acquired with the current local situation in the country. He stressed that they are very happy to provide this gain to the students and to the readers and that they are continuing to work on behalf of new publications and new researches.