SCHOOL OF TOURISM AND HOSPITALITY
GAÜ'DEN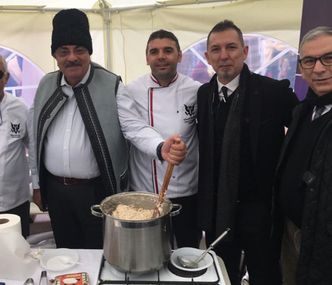 GAU'S HAND ON HISTORICAL FEST AT GAGAUZIA
Girne American University, with the sister university Moldova American University, succesfully represented their missions by taking part at Gagauzia Wine Fest which has been celebrated for centuries in Sovereign Republic of Gagauziya .
According to the informing made from GAU, Girne American University and Moldova American Universtiy – which is one of the GAU's higher education campuses – opened a stand at the festival that attracts intensive attention from Gagauzia Turks upon the special invitation of president of Gagauzia İrina Vlah.
Another special guest of the fest,which Vice President of Repuclic of Turkey Tuğrul Türkeş attended, was Founding Rector of GAU and MAU Serhat Akpınar. Akpınar, accompanied by Deputy Chairman of GAU Board of Governors, took a close interest in GAU and MAU's stands and other stands of the fest. While Akpınar leagues together with cognate Gagauz and gives presents which consist of products that reflects Cyprus Turk Culture, Vice President of Repuclic of Turkey Türkeş was interested in everything that is intrinsic to Baf Region on the GAU stand.
Gastronomy and Culinary Arts within the Faculty of Tourism and Hospitality Management of GAU have presented various tasted with foods which is intrinsic to Cyprus such as; herse, olive and halloumi. Mayor of Tatlısu Hayri Orçan – who is among the other guests of the fest – also visited the stand and congragulated all the laborers for their successful  attempt and the products.
Republic of Moldova and Gagauzia which are wine producers all by theirselves, tries to introduce their capacities with these kind of festivals.