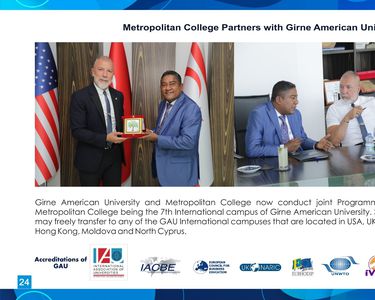 Girne American University in Collaboration with Metropolitan College for 17 Years
WHAT'S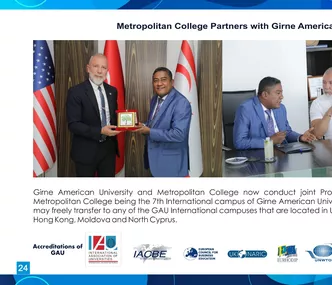 Girne American University in Collaboration with Metropolitan College for 17 Years
Girne American University in Collaboration with Metropolitan College for 17 Years
Metropolitan College, Sri Lanka was incorporated in 1999, and is a reputed higher education institute offering tertiary education in Management, Leisure, Psychology, Social Science, Languages and Information Technology in partnership with Girne American University. Keeping the well-being of the students in mind, Metropolitan College provides programmes ranging from Diploma to Doctoral level that are affordable, transferable and comprehensive.
At Metropolitan College we believe that good education transforms the mind and brain. Our dream is to make our students intellectually competent, morally strong, socially committed and spiritually inspired so that they can contribute towards the nation's development. Our prime objective is to equip them with the right values, attitudes, beliefs and capabilities to face the ever-changing world.
We have created a state of the art academic infrastructure, putting together the best of teaching talent equipped with every required learning aid to ensure that students at Metropolitan College get the best in terms of education, facilities and faculty. Our commitment towards excellence helps us to set outstanding teaching standards.

Girne American University and Metropolitan College conduct joint programmes and the students have the opportunity of transferring to any of the GAU international campuses. Metropolitan College and GAU are having a partnership since 2005.