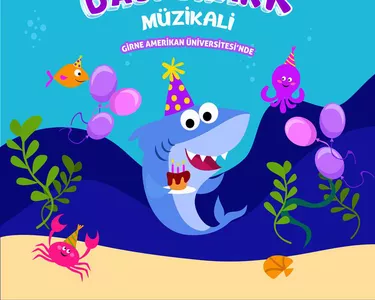 A GREAT INTEREST FOR THE BABY SHARK MUSICAL TICKETS
WHAT'S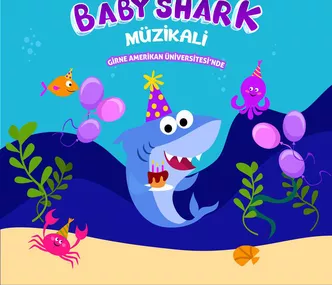 A GREAT INTEREST FOR THE BABY SHARK MUSICAL TICKETS
The "Baby Shark Musical", which is popular worldwide, will be performed at The Girne American University on Saturday, February 15,2020 at GAU's Spectrum Stage.
According to a statement made by GAU, the musical will take place on Saturday February 15 at GAU Spectrum Hall, it will be in 3 sittings.The tickets selling points are; Deniz Plaza Kyrenia (Central Branch), Nicosia (Central Branch), Akpinar Patisserie, and you can also purchase the tickets on the website www.gisekibris.com . The sittings for the Baby Shark Musical are, 12:00, 14:00 and 16:00 o'clock. The fee for the tickets are 50 TL and the musical is suitable for all children over 24 months.
"Baby Shark" An Under Water Adventure
"For the little sharks birthday party, the little sharks' family and friends prepared a magnificent party under the sea.
Everyone had so much fun at the party.
As the little shark blew out the candles the little sharks father told the little shark that the little shark is older now and explains it's time to learn the rules of being a shark. Sharks are the oceans' kings, they must stand strong and live alone. The little shark wasn't very happy of this situation because the little shark likes to dance and loves its friends very much.
As baby shark was dancing sadly suddenly was trapped in a whirlpool and ended up somewhere under the sea where it has never been before. Baby shark was lost.
Baby shark calls for help, but no one can here the little shark.
As baby sharks' friends crab, octopus and red fish went to the park where they all usually play, they realise the little sharks' absence and go to inform the little sharks family. Everyone starts searching for the little shark.
When they find the little shark at the rockery, daddy shark is unable to save the little shark on his own. With the help of crab, octopus and red fish, they save baby shark. Everyone is happy. Daddy shark learns a lesson after this, he finally sees how nice friendship is."