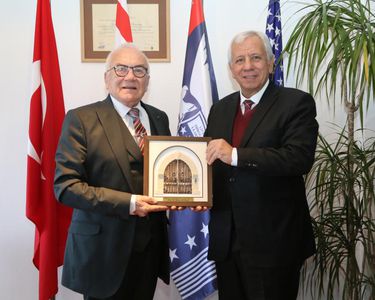 A MEANINGFUL VISIT TO GAU'S RECTOR PROF.DR.KUTSAL OZTURK
WHAT'S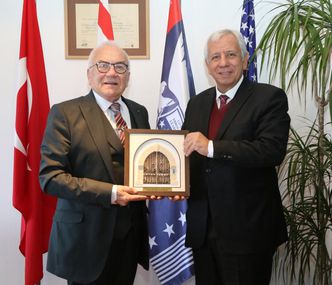 A MEANINGFUL VISIT TO GAU'S RECTOR PROF.DR.KUTSAL OZTURK
The Rector of the Rauf Denktas University, Prof. Dr. Hasan Ali Bicak, payed a courtesy visit to the Girne American University.
Mr.Bicak, who visited GAU's Rector Prof. Dr. Kutsal Ozturk at his office, mentioned GAU is carrying the first private university reputation and is the pioneer in the sector of education for 34 years. Also, GAU's worldwide successful education establishments with its' campuses in 7 different countries hosting academicians and students from different cultures.
Mr. Ozturk mentioned that he was very glad of Prof.Dr.Hasan Ali Bicak's visit.
At the end of the visit, that emphasised the exchanged ideas with one another and the importance of collaboration between both university rector's educational institution, Prof.Dr.Kutsal Ozturk presented a plaque to Prof.Dr.Hasan Ali Bicak in memory of this visit.