FACULTY OF HEALTH SCIENCES
GAÜ'DEN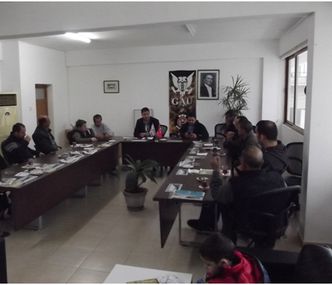 GAU Apiculture Center Enters into Practice
Beginning from the new harvest season, building of the Apiculture Center, which is located within GAU Karpaz Life Campus and will include structures such as Honey Analysis Laboratory, Queen Artificial Insemination Laboratory, Honey Filling and Packaging Unit, Honeycomb Production Unit, Apitherapy Unit, Processing Unit of Apicultural Products and Education Hall, will come into practice.
Scientific Analyses
It will be possible to perform the following analysis in the Honey Analysis Laboratory:
HMF, Moisture, diastasis number, quantification of proline, electrical conductivity, free acidity, ratio of c4 sugars, sugar profile, heavy metals, naphthalene, antibiotic, pesticide and insecticide residuals.
With these analyses, consumers will be provided better products and Honey Filling and Packaging Center will enable us to produce world class products.
Wax Making Cycle
It was stated that comb foundation which is used on bees has a great importance for a healthy beekeeping, for this purpose, bee waxes will be used on bees by establishing a wax making cycle within the area and it is aimed to create awareness in the product range by producing api-therapy products.