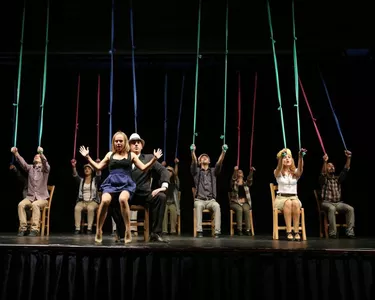 Dance Department's Special Skill Audition
WHAT'S
Dance Department's Special Skill Audition
THE STEPS OF SPECIAL SKILL AUDITION
Dance Department's Special Skill Audition  is performed in THREE steps.
          1.        STEP: Applicants' flexibility, posture, height, weight as physical appearance with their history of dancing will be examined.
          2.        STEP: Having or not having an ear for music, physical coordination, sense of rhytm will be checked. In addition,  a solo performance is required from the applicants at least for 1:30 minutes.
             3.        STEP: Routines will be given by the teachers inorder to test the applicants' perceptions and creativities.
Applicants must be present at the audition place at least 1 hour before the test  starts. Applicants who become successful in the three steps they would recieve 4 years academic training in the Girne American University.
DOCUMENTS REQUIRED TO APPLY
4 photographs ( 2 passport size photograph, 2 full body photograph), ( photographs should bewithim the last 6 months, from front, head and neck should be open (Applicants should be easily introduced)
Original Passport and a photocopy of the Passport
Be aware: Professional male or female dancer who will participate in the  audition should wear Tight and Body T-shirt .
Audition Date: 4th of September
Time:11:00