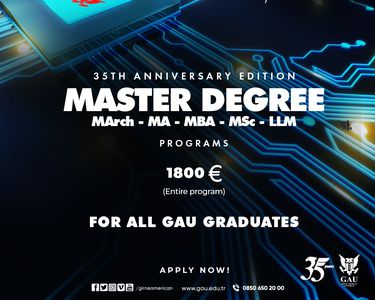 SPECIAL OPPORTUNITY OF 1800 EUROS TO GAU GRADUATES
WHAT'S
SPECIAL OPPORTUNITY OF 1800 EUROS TO GAU GRADUATES
The Girne American University (GAU), due to its 35th year in Higher Education, offers a great discount to its graduates and to the TRNC for the Master and PHD programs.
GAU continues to grow rapidly with the slogan "Change the World with Your Leadership Story", offers a great opportunity to those who want to pursue an academic career with the special offer it presents to the TRNC.
In the statement made by GAU ; For 44 Masters and 15 PHD programs approved by YÖK (Council Of Higher Education), YÖDAK (Higher Education Planning Evaluating Accreditation and Coordination Council), Eduniversal, IACBE and other leading accreditation and equivalence institutions in the world; It was stated that regardless of the semester, special discounts are offered to graduates, TRNC citizens, TAF (Turkish Armed Forces) and Security Forces, Police, Martyrs and Veterans Children and Embassy Members and their spouses.
The GAU; especially with the Health Management Master's program, is the only name in the most successful Universities category in Turkey, and was also stated that it has come 95th in the world ranking. On the other hand it was emphasised that; As a TRNC University, The GAU, achieved to be in the top 5 Universities in Turkey in the branch of the Middle East and Central Asia 'Economics Masters Education '.
As a result of the evaluations made on the basis of data such as the opinions of the academic platform and the environment, the faculty-student ratio, the citation per faculty, the sectors and employer opinions, and the rates of "international student-staff" held by GAU; The Girne American University, in the field of "Construction Management", among the 2 Turkish Universities ranking; It ranks 78th.
Registrations Have Started With The Special Discount Opportunities
It was stated that GAU Cyprus Campus has a special fee of 1800 Euros for the 2020 summer semester registrations for the 44 Master programs within the campus of Kyrenia (the whole program) and 5000 Euros for the 2020 Fall semester registrations for the PHD Program (the whole program).
The Last Day Of Registrations Is Monday, July 6th
It was stated that the deadline for application is Monday, July 6, 2020, the candidate students can obtain more information from the web addresses of, www.gau.edu.tr and graduate.gau.edu.tr , and the application process can be carried out via bilgi@gau.edu.tr .