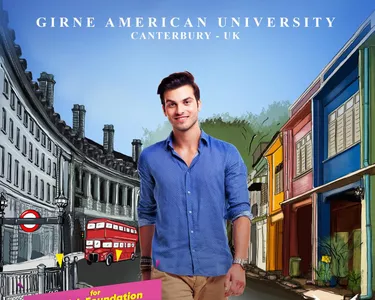 GIRNE AMERICAN UNIVERSITY CANTERBURY - UK
WHAT'S
GIRNE AMERICAN UNIVERSITY CANTERBURY - UK
With One Step
The World Is Yours!
Global Education- Join Us To Make It Happen
GAU Canterbury-UK
Living and learning in Canterbury, a true British city, will improve your level of English quickly and effectively. It will also give you a real taste of British/European culture and way of life! Our campus is at the heart of Canterbury, with short walk to nearby attractions, like the Canterbury Cathedral. Students can also attend the Canterbury campus English Language Academy for short courses in English. Students from other universities can also take advantage of this opportunity to study in the UK!
GAUC accepts students from all GAU and affiliated universities. GAU students are eligible to spend max. 2,4 semesters (inclusive of the summer term) studying their chosen field at the Canterbury Campus. The last semester of studies students must completed at GAU Cyprus.
Why should I go to  GAU-Canterbury for study abroad?
Become proficient in your chosen field of study in an international environment
Improve your professional English
Study in a modern city centre campus
Enjoy flexible learning and small classes
Pay less than half the tuition fees of typical UK universities
Opportunity to enrol with modern local libraries
Qualified and experienced lecturers
What Does Canterbury Offer?
A historic city with a youthful student population
Over 50,000 students studying at four Universities
Traditional English heritage with a cosmopolitan mix
Fantastic leisure and cultural facilities
Vibrant nightlife and music scene
Extensive shopping facilities from global chains to small independent specialists
Easy access to nearby coastal towns renowned for excellent sea/water sports facilities and good food
Beautiful Kent countryside
Only 1 hour by train to London
Direct rail links to France and rest of Europe
ELA English Language Academy
English Foundation School
General English
English for Specific Purpose
Exam Preparation Certificate Programs (IELTS, TOEFL, CAMBRIDGE)
Academic Programs
Business and Economics Faculty
Business Management
Accounting
Banking and Finance
International Business
Marketing
Tourism & Hospitality Management
Architecture, Design and Fine Arts Faculty
Architecture
Interior Design
Housing
STUDENT LET CANTERBURY – updated 31th July 17
available from 1st September- 44 weeks
-Classic En Suite, Lower Ground, Behn Hall - £131 per week- -Classic En Suite, Behn Hall - £139 per week
-Deluxe En Suite, Tallis Court - £140 per week
0844 310 5701
Canterbury Student Manor Parham Road Canterbury CT1 1GA
 (44 and 51 weeks options)
Start date 16 September
Bills included
5 bed-cluster ensuite £139 per week- total £6116-£250 booking fee- 44 weeks
Club Studio £169 per week-total £8619-51 weeks
Standart studio £172- total £8772-51 weeks
wide range of options £95-£200 perweek, some of them are bills included
 info@stla.co.uk
prices starting from £70 per week- utility bills NOT included-minumum 9 months contact
http://leydonlettings.co.uk/available-canterbury-student-accommodation-view1/?room=5
prices starting from £303 per month for 5-room accommodation
enquiries@leydon.co.uk
5 bedroom property
walking distance to Uni.
£410 per month- bills included- minimum 44 weeks
£129-£209 perweek- only waiting list is open- 51 weeks
Searchable database- this is only one example for £400 per month in 5 room house
19 diffent options with minimum 9 months contract
FEES
FOUNDATION ENGLISH PROGRAM                                                         € 5.000
BUSINESS & ECONOMICS                                                                        € 5.000
ARCHITECTURE, DESIGN & FINE ARTS                                                  € 5.500
TOURISM AND HOSPITALITY                                                                   € 4.500
Applicatıon Fee                                                                                          € 50
Registration Fee (Annual)                                                                           € 250
Academic Activity Fee (Per Semester)                                                          € 125
Health Insurance                                                                                        € 60
VAT                                                                                                            %5
International Campuses
We offer opportunities for our students to study in GAU's international campuses in North Cyprus, the United States, Moldova, Turkey, Hong Kong, as well as Sri Lanka.
GAU Cyprus
Girne American University was founded in 1985 and has grown from its small beginnings to becoming a university with over 20,000 students from 135 different countries and faculty members from over 40 countries. Over the course of the years, University has expanded from its campus in Girne to being a global institution. In the spirit of globalization, GAU has established study abroad campuses in three different continents with its Canterbury, Hong Kong, Sri Lanka, Moldova, Washington DC and Turkey campuses. GAU is the first private university to receive world-wide recognition for its programs. GAU is dedicated to becoming a key institution in international higher education, and being a welcoming learning hub for students from all backgrounds.
" Being an undergraduate student at GAU has enabled me to experience education through a new perspective. It is quite a challenge, but I believe it is worth every effort. The University is an inspiring place to learn and it sets international standards required to succeed in the global business. Not only has it allowed me to become knowledgeable in my field of study, an independent learner and self motivated, but I've also met people from various walks of life. To summarize my experience so far I would simply use the word exhilarating. "   Nelicia Braganza, Kuwait, BSc in Business Administration 2009 GAU.
Dulles University, Virginia, United States
Dulles University is a GAU Affiliate University, established in Virginia in 2010. Dulles University on-line MBA is the elite program of study for managers ensuring that they have the necessary knowledge and skills to operate effectively in the business world – as owners, senior managers or entrepreneurs. On-line Master of Business Administration curriculum offers the students an opportunity to develop a broad understanding of organization and business and then to focus on a special area of interest. It is designed to promote career advancement of professionals from every undergraduate background. The on-line MBA program is specifically designed for the working students. The normal progression of a student leads to the completion of the degree program in a period of two years.
GAU Istanbul Campus, Turkey
GAU Istanbul campus offers certificate programs in a variety of fields. Additionally, GAU Istanbul Campus runs Summer School programs from any faculty, and the students are encouraged to take 2-3 courses. The courses to be opened are contingent on the student applications. Announcements are made every April. Alternatively, students can choose to take certificate programs, which are run year-round. 
GAU Hong Kong Campus
GAU students have a chance to spend a short term program in the mystical atmosphere of the Far East, Hong Kong. Students are able to take their degree courses while getting to know different cultures and traditions. Hong Kong is a small but dynamic city located to the southeast of the Mainland China, adjoining the province of Guangdong. It forms a triangle with Macau to the west and Guangzhou to the Northwest in the Pearl River Delta. GAU Hong Kong Program provides intensive coursework supplemented by a dynamic cultural immersion program with sightseeing and guided tours.
American University of Moldova, Chisinau, Moldova
Founded on 2 June 2015, American University of Moldova can be found on the historic Ştefan cel Mare Boulevard in Chişinău. Its state of the art building facilities and with its top-notch academic staff, AUM is commencing its education program with 2015/2016 Academic Year. You can visit www.aum.md for more information.
GAU Sri Lanka Campus
GAU Colombo campus is a partnership with the local Metropolitan College, offering courses in Psychology, Business, Accounting, International Business, Marketing, Tourism and Hospitality Management, Political Science, Banking and Finance, International Relations and English Language and Literature. Through this partnership GAU Students have the option of spending 1 or 2 semesters away in colorful and vibrant Colombo.
Accreditations and International Standards
Girne American University (GAU) is nationally accredited by The Higher Education Planning, Evaluation, Accreditation and Coordination Council (YODAK) of North Cyprus and The Council of Higher Education (YOK) of Turkey. GAU is also recognized in the United Kingdom by the National Recognition Information Centre (NARIC), important for those students wishing to transfer or later use their qualifications in Europe. As a result of these initiatives our degrees and diplomas are routinely recognized for transfer by universities in the USA, Europe and elsewhere.
The University has received specialized accreditation for its business programs through the International Assembly for Collegiate Business Education (IACBE). University`s Business bachelor and master courses are also accredited by the European Council for Business Education (ECBE).  Engineering Faculty, accredited by Agency Specialized in Accrediting Degree Programs in Engineering, Informatics, Natural Sciences and Mathematics (ASIIN) and European Accreditation of Engineering programmers (EUR-ACE) by European Network for Accreditation of Engineering Education, (ENAEE). School of Tourism and Hospitality, accredited member of the United Nations World Tourism Organization (UNWTO) and earned the TedQual (Tourism Education Quality). Marine School & School of Aviation: GAU degree programs recognized by Turkish Republic's Ministry of Transport, Maritime Affairs and Communications (UDH), Directorate General of Civil Aviation (DGCA).
Foundation School: Accredited by Educational Excellence (EDEXCEL) and Excellence in Language Education (EAQUALS)
For further information about accreditations and memberships:
http://www.gauc.org.uk/about-gauc/accreditations
What`s your story?
Contact us, tell us your story and find out more about your place at GAUC.
email : info@gauc.org.uk                      
Tel: +44(0)1227 455556
Fax:+44(0)1227 479031