GAÜ'DEN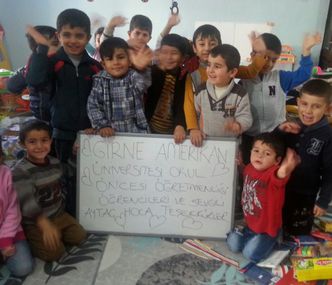 "Thrust Out Your Hand Campaign" Is Continuing
The Education Faculty of Girne American University (GAU), as a part of "Thrust Out Your Hand Campaign" which is the first social responsibility project of GAU and where the Department of Early Childhood Education had walked with the motto "We Are A Big Family" in 2015-2016 academic year, They have started "improvement and development practice" in two pre-schools which are in Erzurum and Hatay. Within this scope, the missing and necessary materials of Hatay has been provided, support has been given for "Everything is for a Smile" Association which is centered in Adana, children's educational environment has been restored. Furthermore, the students' parents from Turkey has helped to the campaign by looking after them.
Flow of Support by GAU
Students of GAU didn't remain only with TRNC in their social responsibility projects and they get in contact with the nongovernmental organizations in Turkey to make this campaign more extensive. To this implementation which Girne American UNIBJK contributed too, GAU's faculty members' children has supported the campaign too by giving their own toys.
Example of Social Sensitivity
 Due to the campaign gain momentum and the participation get pretty enlarged, those words has been announced in the statement: "With this interference which we have started with the  'Thrust Out Your Hand too Campaign', our study was to execute not only to graduate teachers that have only theoretical knowledge, also to graduate teacher that have social sensitivity . Our social responsibility projects will continue with its full speed and we will continue to labour for making this real. We thank to our students that cling to the campaign for support and for the cooperation examples which they have shown to the children and friends that are assigned as teachers. As the Department of Early Childhood Education of GAU, we're a big family and our is growing every year. Every year, within the Community Service Practices, we are making projects with the cooperation of associations and nongovernmental organizations in TRNC. Our department, besides of giving Community Service Practices lectures, they are implementing social responsibility projects."
Meaningful Explain
In the statement that emphasizes one of the main aims of GAU's Education Faculty is to raise teaching profession as the conductor of society, that are the leader, that have national and universal values, those words has been announced: "The teachers that we have raised are graduated while comprehending the importance of values and social responsibility projects for a strong and dynamic social structure in their country. The biggest gain of a university is the performance that their grad students give and the bond between the students and university that are not broke. The students that have graduated from GAU's Early Childhood Education Department had never break the connection with the university and they are still in touch with the university after their graduate.