GAÜ'DEN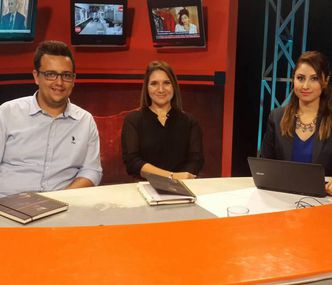 GAU Academicians Made Statements Regarding The World Children's Rights Day
GAU DEPARTMENT OF PRE-SCHOOL TEACHING ACADEMICIANS MADE IMPORTANT STATEMENTS REGARDING CHILDREN\`S RIGHTS
Assist. Prof. Dr. Azize Ummanel, the Head of Girne Amerikan University (GAU) Department of Pre-school Teaching, and Lecturer Aytac Dilek, made important statements regarding \"World Children\`s Rights Day\" on a TV program they participated.
The Head of GAU Department of Pre-school Teaching Assist. Prof. Dr. Azize Ummanel stating in her statement that GAU Pre-school Teaching Department was was established in 2008 with the the approval of YÖK, expressed that during the education period, they gave education to improve the students teaching skills. Ummanel expressing that the department has a new and dynamic staff, stated that together with the academics, who are working sensitively and devotedly, there are 550 students within the department.
Lecturer Aytac Dilek stated in his statement that in the practice they showed the students what they could do for the children by using their own facilities and what should they to pay attention to in the material construction, when they graduate and get assigned. Dilek, who expressed that in teaching practice courses the students go to the public schools or private institutions for internship on certain days of the week, also stressed that they are in cooperation with American College and that they are feeling the support of the college.
Dilek, stating that they attach importance to the social responsibility projects, stressed that they are the most active part of the island with the projects they performed and that every year they implement service to the community and apart from that she also stressed that they renewed 3 different kindergarten in 3 years within the projects they carried out collectively with early childhood education support clubs.
In continuation of her statement, Ummanel stated that the aim of the social responsibility projects is to educate the students with the mission to be sensitive to the citizens in their community. Ummanel, who expressed that every year a donation to the Kemal Saraçoğlu Foundation is being made within the scope of community service classes, stated that they held fairs within the courses. Additionally, Ummanel stating that they are currently executing an aid campaign, stressed that the aids collected will be sent to Erzurum and Hatay.
Could you tell us about the problems on the child rights?
Referring to the problems in the field of child rights, Dilek, also stated that The Children\`s Rights Convention opened for signature at the United Nations General Assembly in 1989 and it was accepted all over the world as an international agreement in 1990. Dilek, who expressed that the children\`s rights convention is a contract that consists of 54 articles and every individual between 0-18 years are acknowledge as children, stated that the children\`s rights convention was signed in 1990 in Turkey and was published in the official newspaper in 1994. Dilek stressed that the agreement was inforced as a law in TRNC after being published in the official newspaper in 1996.